Korcula is a lovely island northwest of Dubrovnik, with a walled city fortress and history going back hundreds of years.  Francesco Da Mosto did a documentary (Francesco's Mediterranean Voyage Ep.3) including the Moreska Korcula or the traditional sword dance of Korcula. In this land narrated by its history of invaders, this story is about a lovely girl who is captured by the Black Prince and saved by the Korculean prince.
We were in Korcula on the night the Moreska was playing and had a most interesting evening. First people watching as every seat was taken in the 'theatre' space, the welcome by  a CJ Craig* look alike MC in five languages, traditional songs sung acapella by the Korcula equivalent to the Circular Quay chorus and finally the  Moreska itself. Here are a few photos.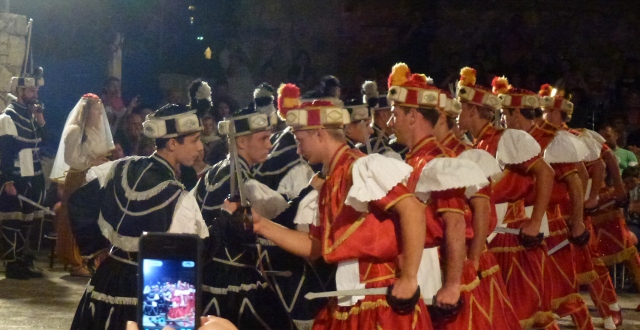 Sparks fly off the swords, the good guys win but the interesting fact is that this is a family tradition. These men are following in the footsteps of their fathers, grandfathers and other ancestors.   Croatia is a land of tradition and new beginnings.
* CJ Craig of West Wing, played by Alison Janney.