We have been in Corfu for a few days, mainly going through the formalities of entering a new country. Yesterday, was to be our day to go sightseeing in Corfu Old Town, but we were starting out with a coffee at our favourite cafe, so we could access wifi. James looked up to see our mate and yachting legend, John Valentine, approaching. We were expecting to see John and the crew of Tainui, but somewhere further east. What great luck to see them while we all are still in Greece as they were leaving the next day for Montenegro. We met Maxine, Pasha and Tatiana, all of whom we had heard about from John in Sydney. We have been looking forward to meeting his formidable crew, who had sailed the Volga with John on Tainui. You can read some of their exploits on Tainui.org, John's blog. For any sailor thinking of sailing the Belomorsk Canal, the Volga, the White Sea, Black Sea and other Russian Waters, these are people to read.
We chatted for awhile, about Montenegro and Croatia, enjoying our coffee and telling them about a book called 777, which an excellent cruising guide to Albania, Montenegro, Croatia and other points along the Adriatic Coast. John gave us some information about ports for us to visit in Greece and information about Marmaris too. He introduced us to Marty, at the next table, who was sailing Canty, with husband Paul and son John from their home port in Camden, Maine. We decided to meet for dinner that evening to discuss sailing. James and I went off to visit Corfu Old Town, the Liston and the old fortress. This town has been influenced by hundreds of years of Venetian rule, a decade or so of French rule and influenced by time spent as a British Protectorate.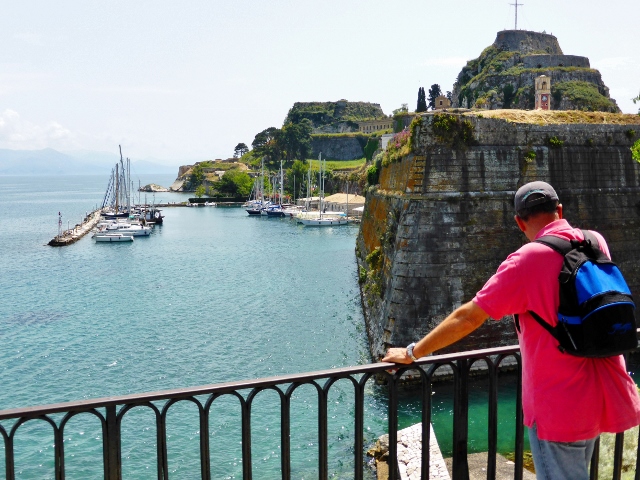 We walked through the Old Fort and visited the church of Saint George and enjoyed vistas over Old Corfu Town, the Greek Mainland and also Albania, under heavy cloud, in the distance. We saw young cricketers checking out the cricket pitch between the Liston and the car park. The night saw the crews of Tainui, Canty and Mercier tell sailing stories until the wee hours of the morning. Paul and Marty have sailed extensively in New England, Scotland, Ireland and Scandinavia, much chillier climes than we are used to.  Fascinating to hear about sailing in such different circumstances.