The city walls of Dubrovnik deliver many exciting panoramas, you walk the perimeter of the city at varying heights and look inward into the resilient city or out to the busy sea.  The walls are 1940 meters in length and up to 25 meters high. Dubrovnik Card also tells us that there are three forts, 16 towers and 6 bastions.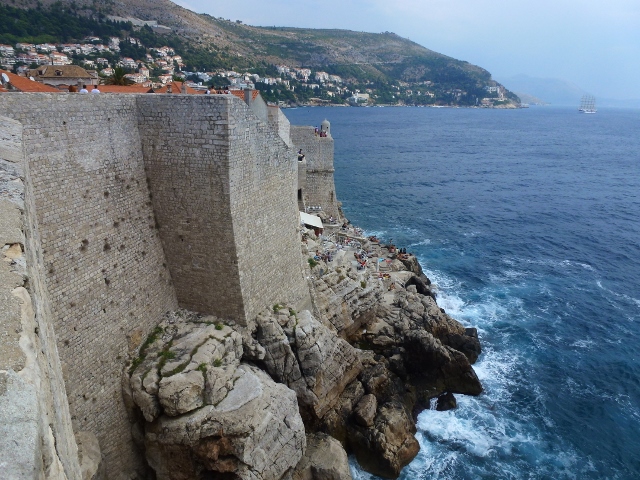 Today was forecast to be cloudy, possibly rainy and windy.  We stowed everything down below on the boat and took the bus into town.
The merits of walking the bastion mean that you climb many stairs; the pay off is that the view is enhanced. You get a look at life not from street level but from a loftier perspective. We are view junkies, so we take the stairs.
We walk for a kilometer around the top of the wall from Pile Gate towards the Bokar fort and then on to the Fort of St John. The sky was grey but looking over the Ploce Gate and mountains behind the city, dark storm clouds were threatening.  We thought this might be the right time for a lunch break.
We walked down into a labyrinth of tiny streets and looked for an indoor restaurant.  We could see that awnings were not going to keep us dry.   We passed a few cafes, but a few large raindrops focussed the mind. We found a table free and ducked in for a dry lunch in a nice little Italian.
After lunch we decide some indoor activities were in order and we went to the Rector's Palace followed by the Maritime Museum.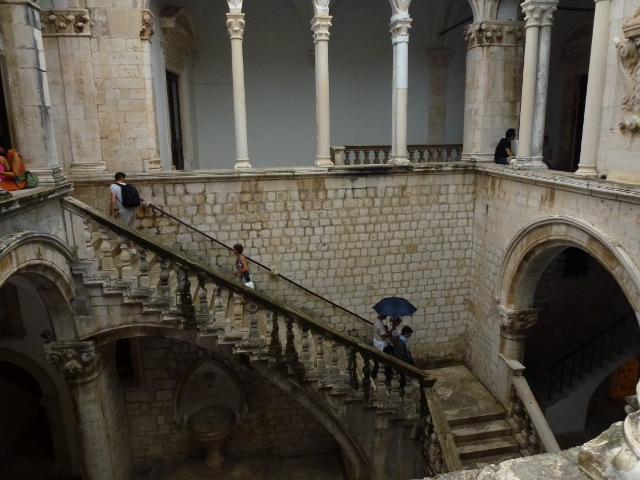 Three hours after those early raindrops, the skies cleared and we resumed the walk of the bastions with some lovely vistas.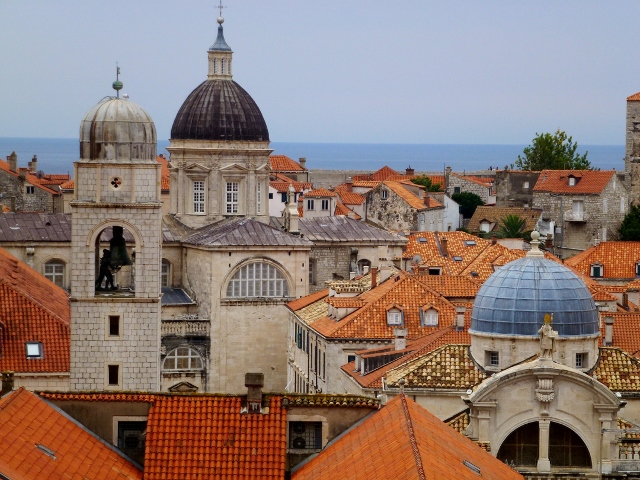 Congratulations to  Ben and Jacqueline for making my cousins, Lorraine and Fred, Grandparents. Welcome to the world, Aiden.  Happy Birthday to cousin Sonya, & pals Kim and Charlene. Hope you are all spoiled.  It was Lorraine and Ben's birthday recently but they were just waiting for another happy event. Auguri, to you all.