On Tuesday, we left Kalymnos and motored right over to Kos.  You could see the island from our spot on the Town Quay and as soon as we sailed out of the harbour we saw several islands and Turkey.  There is a small barren island just a stones' throw from Turkey and both Greece and Turkey have their large flags facing each other.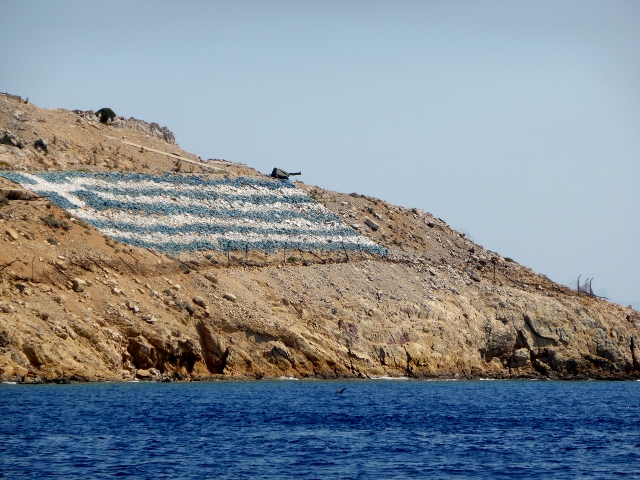 We wandered the streets of Kos Town less than a kilometer from Kos Marina, which we think is one of the best marinas in Greece.  Certainly it has the nicest showers, which is a very important criteria.
On Wednesday morning, Kate and Mike Rider, friends from Noosa, came into Kos on a cruise ship and visited us on Mercier.  We were able to sit and chat, in a beautifully cool breeze and sip our coffees.  Mike is always a useful font of Beneteau knowledge and we appreciate his advice.
We stopped for lunch at H20 on the way to visit Hippocrates' Plane Tree, the Agora and the Castle of Neratzia, which is full of ruins from the Knights of St John, as well as Turks, on the foundations of an ancient city. The castle is mirrored on the Turkish Coast by the Halikarnassos Castle, so the Knights of St John could control the Straits between Greece and Turkey.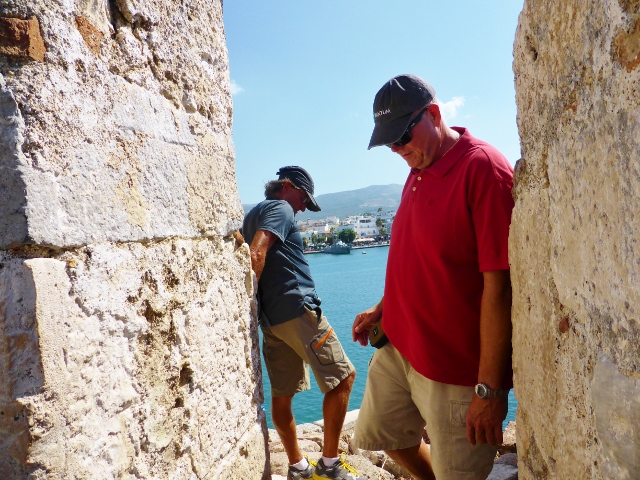 We scrambled over and through both keeps and into tunnels, looking at antiquities, Turkish writing carved into plinths and many heralds over the tops of arches and upper walls.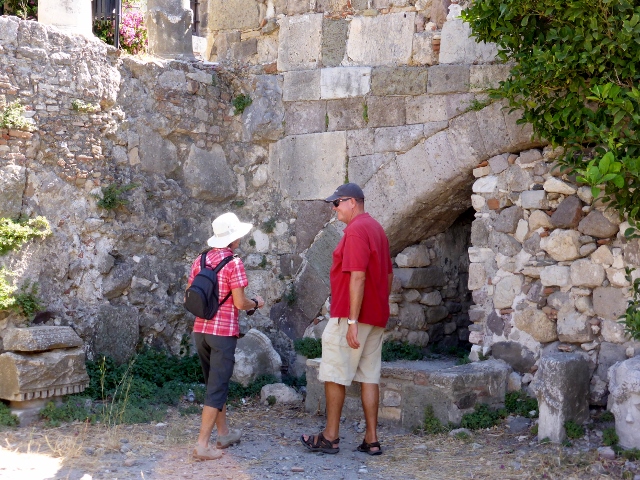 Neratzia is the Greek word for 'Bitter Orange" according to one website but we only saw capers and pomegranates growing and of course the beautiful views.