Originally, we were departing Seward and heading to Aialik and Holgate Glaciers, but the Captain said a front was moving in and we best try the less visited Hubbard Glacier instead. We sailed into Yakutat Bay, with the imposing Mount Saint Elias acting as a beacon, making it easy to find the bay.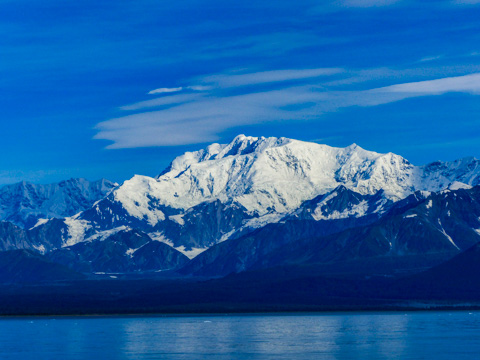 From a distance of five miles you can see the glacier. It is imposing. The ice face of the glacier is six miles wide and 400 meters high. It is not far from the Malaspina Glacier, on the next headland.
We could hear massive cracks and groans, even when we didn't see the actual calving. Ice would float out to the ship and you could see a dinghy sized piece of ice just beside the ship.
The next day found us anchored off Icy Strait Point and we went looking for Eagle's nests and visiting the town of Hoonah. The industry here had been fishing with a handsome cannery, which has now been turned into a museum and gift shop.
Walking back from the town, we were almost at the cannery and an eagle swooped down from a tree and majestically flew over the beach.  Looking up into the trees we could see an immense nest and wonder if it belonged to our eagle. Eagles are important to the Tlingit people but I am not sure if this is an eagle or a raven. With the blue skies, the red school-house and the colourful totem poles really stood out.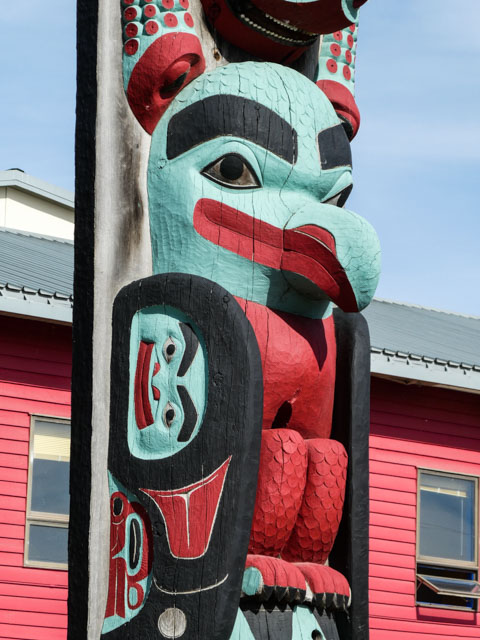 Please note the blue skies, wish I had been fast enough to catch the eagle in flight.