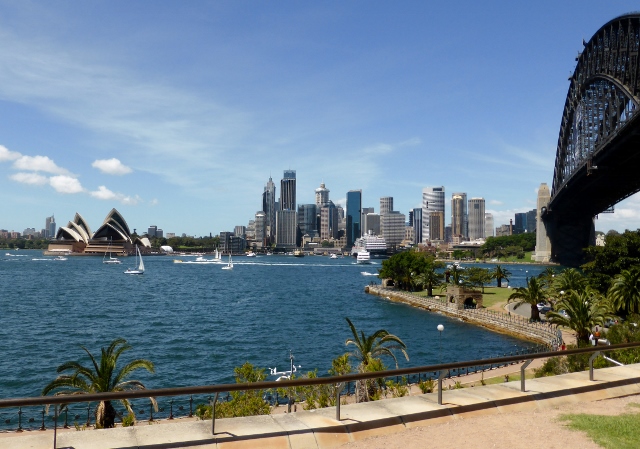 A few California friends want to see a bit of Sydney.  James and I are lucky because we live across the harbour from the City.  We have arrived home and are now settled in time for Christmas parties with friends and family.  We live within a mile or so of this great viewing point of the city, in Kirribilli. There are a few Sydney icons in this photo: The Sydney Harbour Bridge, the Sydney Opera house, boats on the Harbour and the city skyline.
My nephew Chris and his family met me last Saturday for a walk around this area.  He lives in Country, NSW and it was an opportunity to take his three muchachos on a walk to a wonderful playground under the bridge and then to see the Opera House and finally Luna Park.
Luna Park is right on the Harbour on the Western side of the Bridge.  It is located near the North Sydney Pool, seen here from the ferris wheel.
Christmas is quite different here, no snow or ice, instead we have warm weather and sunshine.  Still Santa visits in his wooly red outfit to talk to the children about their Christmas wishes.
Over the Christmas holidays, we will be shooting other views in Sydney and also other places in NSW.  Keep tuned.