Wine country, Etruscans, hilltop villages, green Italy and a perfectly transformed Renaissance village are all covered in today's blog.
As you travel through the vines, sunflower farms and rolling hills lush with vegetation and crops, you see green Italy, not one of stone and concrete but another Italy altogether. Many of the vines are of the Montepulciano Vino Nobile grape and are some of Italy's best wines.  They even had Montepulciano plums at our agriturismo. Montepulciano is a hilltop town and its roots go back to the ancient Etruscans.
On our second day in the area, we drove into the countryside to visit Pienza, a town created by Pope Pius ll. Beginning in 1458, Pius ll worked with the Florentine architect, Bernardo Rossellino to create a city model that was laid out in an orderly, pleasing and rational manner.It was a town where urban décor would benefit the citizens. He included new areas for the needy, so they could share in the bounty. He was a truly humanist Pope, standing up against slavery and the persecution of Jews.
Most of us have passed bakeries, where the aromas are pushed out into the noses of passersby to entice them into the shop.  In Pienza, the cheese shop had a fan sending out aromatic scents to pull you into their shop. Pienza is noted for its Pecorino cheese. Also known as cacio, it is made from sheep's milk.  The sheep feed on the verdant hillsides eating aromatic herbs like it thyme, penny royal and absinthe.
There was also large amounts of art, including giant bracelets and rings.
When in Italy, you read about the Etruscans and if you Google them, the story will begin "Their language didn't survive, so we know nothing about them, but they were an elegant people." Now with DNA samples, we may see that the Etruscans (Eighth century BC- First century AD) came from the western Anatolia, near Izmir in Turkey. The Etruscans are fascinating because 'elegant and mysterious' suggests a people of Bond men. But in the Etruscans' case, women had a significant role to play in daily life. The Etruscans were also great artists and seem to be the 'creators' of the famous hilltop towns in Tuscany and Umbria. Italy's history goes back beyond the Romans.
The geneticists did not stop with testing ancient Etruscan DNA, but they also tested cow DNA in the region and found a match with Tuscan bovine DNA in the same area of Western Anatolia. Beef is a food of choice in Tuscany and Umbria.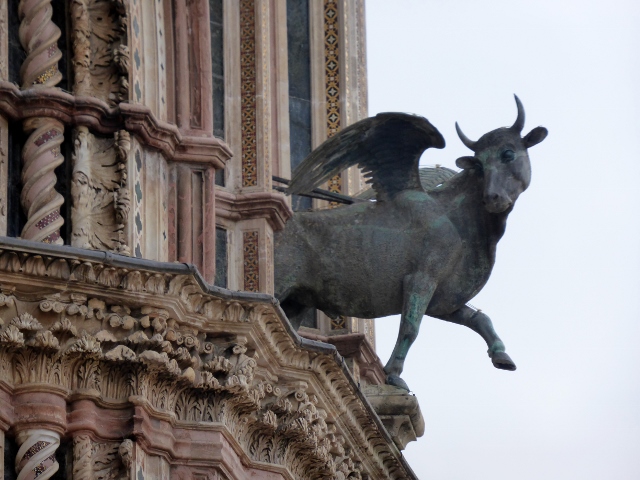 As we left this area, we saw sunflower farms, some almost fully ripe and others that had just been planted. They are joyous to see and enjoy.
Next trip we will stay in some of the hilltop towns, but staying in the country also has it's benefits.