Richard Niebuhr said "Pilgrims are poets who create by taking journeys." James and I discuss what it means to leave Turkey, which we are very fond of, which we enjoy and its history we are amazed by. But the farewell is tinged with only a small feeling of sadness, because we hope to come back again. When sailing, we are almost by definition looking forward.
The planning, down to hours and days that one requires to sail, adds to the feelings one experiences in the new port. We pray for good weather and we wait for it. Wednesday"s five hours of sailing with fluky winds, is like a penance we do to get to a prize.
Wednesday's prize is Symi. Here is an island of Neoclassical houses, stacked up the hills surrounding the bays of the islands. It is an island where oregano runs wild by the road. Churches have pride of place and wonderful views. Another penance is walking up hills to get to the views and Symi affords plenty of hills.  Symi is a jewel, with wonderful tavernas, shops and cafes and beautiful churches.
We hike up to the Chora and stop for a coffee at the Olive Tree, while waiting for our coffee, a pack train of horses bring building materials up the hill.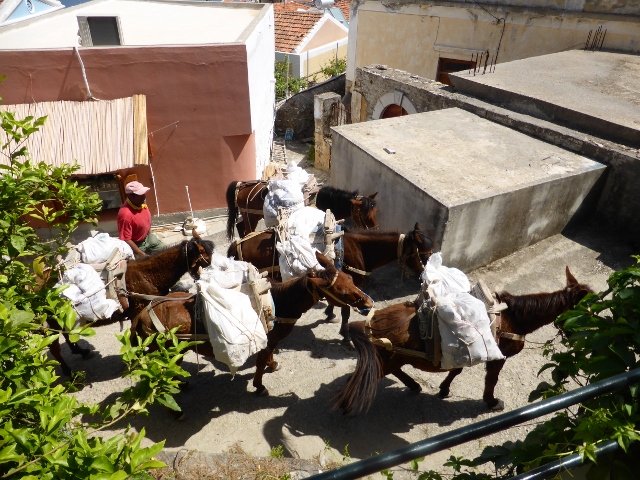 After our quiet respite in the Marmaris Yacht marina, we were back on a town quay in Symi. We had forgotten about the duf duf music and parties on nearby yachts. There would have been 20 people on the 70 foot yacht next to us, singing, dancing and partying until 5:00am. No amount of earplugs blocked their good-humored noise. Ah yes, now we remember. Amazingly, they left before the rosy fingers of dawn on to their next destination.  Thursday's excitement was watching new arrivals collecting other yachts anchors. This is a game where the goal is for a boat to manage to keep its anchor ensconced in the mud, while other boats see their anchors come unstuck.  Our new arrivals brought our neighbour's anchor up to the surface interlocked with their own. Excitement.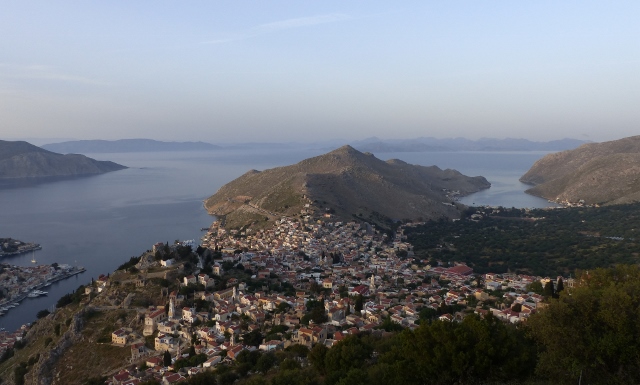 This morning we are on our way to Kalki, heading southwest and saying Hello Greece.
The journey so far:
https://www.google.com/maps/d/edit?mid=zkkfRzDGj2mE.kO4m-3hTL-cs