Mallorca is sunny and warm and after our last few days in chilly Provence. W,e are making the most of it.  We moved from Puerto Portals to a marina in Palma. Still parked next to big beautiful yachts but this marina is not quite as large nor are the boats.
The first morning, the Guarda Civil were on the dock, busily chaining a 75 foot ketch to the dock, ostensibly because the owners haven't paid their marina fees for a few years.  The bill is Euro 200,000.  We will make sure the marina fees are paid before we leave.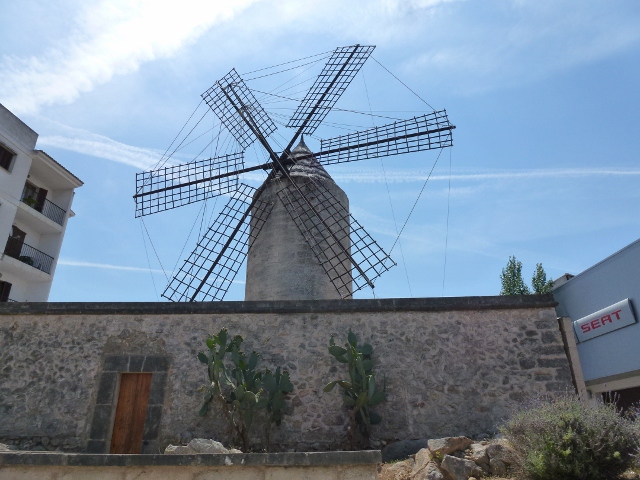 Packing away leggings and jackets, getting the boat ready for the rest of the season, this has been the past week's activities.  Since yesterday was Sunday, we decided to take a drive up to Polença and stop in some lovely towns along the way.  This was virtually a drive down to Cap Blanc and then a drive up the east coast of Mallorca.  We left Palma and headed for Santanyi, a 700 year old town near the Natural Park of Mondrago.  We drove through the large town of Manacor which looked like a thriving centre of commerce.
We had a lovely lunch in Artà, a very old and lovely town that seems to have been preserved from the development rampant on much of the island.  The tiny street our restaurant was on seemed to be pedestrian traffic only, so you could sit outdoors under an  awning and relax with gazpacho and salad.
We left for Alcudia and the National Park of s'Albufera and on the way passed major developments of condos, resorts and villas.  Many of them going for a nice price as the area has overbuilt and the banks are worried. One set of resorts will be catering to the Germans and the next will be catering to our friends from the UK.  We stayed overnight in a nice resort in Polença for E62 per night.  Bargains abound.
We arrived at Alcúdia, ambled through the cobbled streets of the old quarter, with laneways and one or two story stone buildings through out.  Alcudia has kept it's heritage and thankfully the condo developers haven't managed egress here.  It is lovely to walk around and people watch.
Alcúdia is developed on Roman ruins and the fort like walls were built in the 1300's, to protect landowners from pirates and rebelling peasants.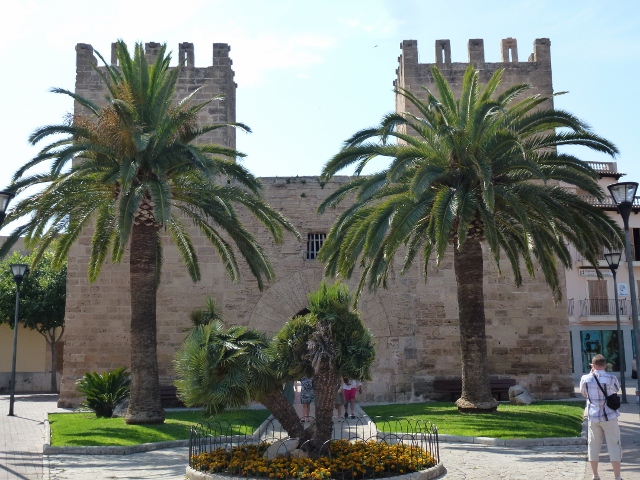 We left Alcúdia after climbing to the top of the walls and roaming around the cobblestoned streets and squares for Polença and it's port.  We aren't sure if we will be able to sail into Port Polença, as we may draw too much water but we would love to spend more time there.
Monday morning, back to wait for workmen to get Mercier into better shape. Hope you enjoy the photos.