Even though we aren't sailing in the Med, we are enjoying azure skies and the beautiful country of the US.  We are in my Mother's home state of Georgia, my ancestors were here when Georgia was still a colony, so the connection runs very deep. Ten minutes from landing at the Atlanta airport, my Southern accent is returning. When we were young and going to visit our grandparents, we would practice our Southern accents on the way down south.
We are off to visit cousins, Don and Becky at their gorgeous home just minutes from Atlanta.  Hey you Sydney-siders, would you like to see what $1 million buys you in Atlanta, GA?
As elegant as the house is, it is the 4.87 acres of gardens and tennis court that captured my attention and my heart.
Turns out my cousin Don is a great landscaper and gardener, spending time on every aspect of this very special garden.
The garden remind me of Japanese gardens, but with the pine and hardwood forest as a backdrop instead of rice fields. We are in the country but within easy reach of Buckhead and Atlanta and we made the most of the shops in Buckhead and Peachtree City.
You don't see or hear neighbours, but we did hear their rooster some mornings. We love our neighbours but this garden is serene.
The hospitality is wonderful in the South and we were spoiled with cousins Jerry and Marilyn coming and visiting us, Tanya having us down to her gracious home in Warner Robins and Judy and Butch making us lunch in Rome.
We went to a fabulous restaurant in Atlanta near Buckhead, New York Prime, to hear the wonderful impressionist, Maxwell Taylor reprise all the great male singers of the 20th Century. What a splendid evening.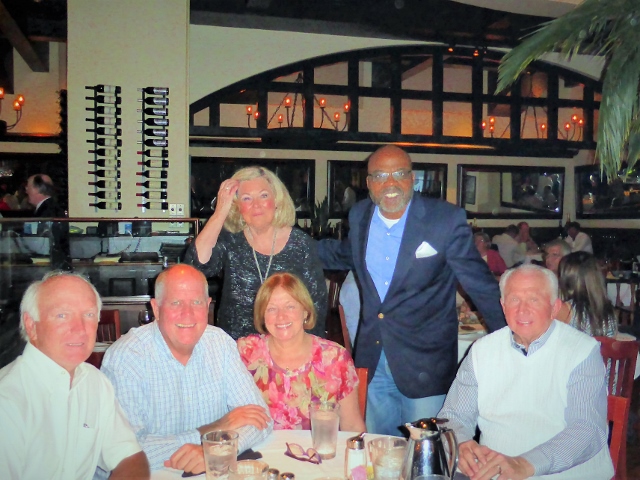 Thanks Georgia for all the hospitality. It is so wonderful to visit and connect with that Georgia red clay.