Saturday was a big day, we had to finalise securing, stowing, cleaning and readying Mercier for her departure from the Med and the beginning of her journey to Australia.
There wasn't much printed material, either online or from the shipping company about how to prepare the ship. Sevenstars Shipping was responsive to our questions, so we hope we have Mercier organised properly.
Turn off or disconnect batteries
Empty water tanks and accumulator of water
Clean with fresh water and bleach both head and holding tanks
Limit diesel to under 200 litres
Secure and stow items left on board
Tape shut all lockers and hatches, wrap any breakables in bubble wrap and secure against movements in the boat
Cleaning was very important as we know Australian Customs officials want things clean, we even lifted the floor boards and cleaned the bilge.
We were due at Pontile Etritrea at 1300 hours to meet the crews of Sevenstars Shipping and the Damgracht, to load Mercier.
As we entered the commercial harbour of Genoa, we had to contact the harbour master, with a prearranged clearance and proceed towards Pontile Eritrea and the ship.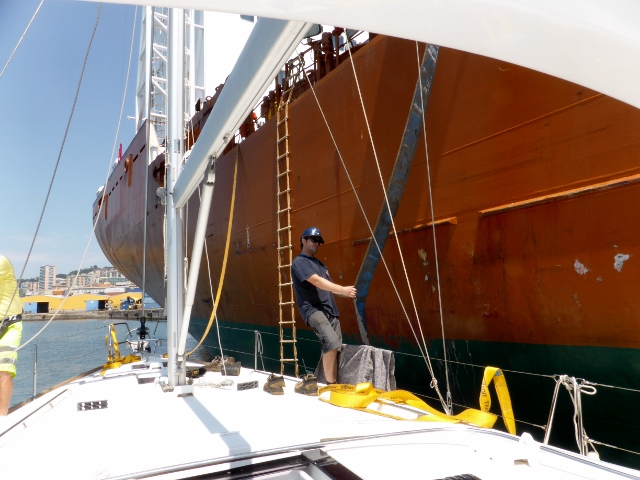 Once the crew was on board, the diver went underneath Mercier to assure the slings were in the correct position. I certainly breathed a sigh of relief to know that others were going up with us and Mercier was secure.
It is easy to see this is how high Mercier was going and we all climbed off at that railing and Mercier was lifted higher to be placed into her cradle.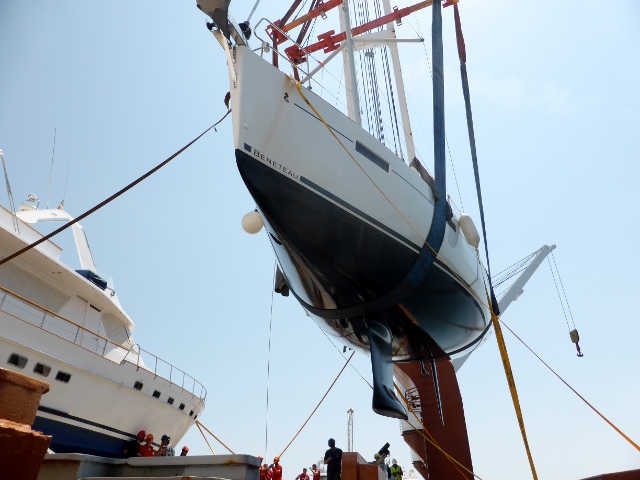 At this point they place Mercier on the cradle and weld the cradle to the deck. James was off to the side, watching intently.He boarded, locked up, put away fenders and I said a soft farewell.
We are wishing Mercier a safe voyage to Australia, where there will be more Azure seas to greet her. There, with luck, the adventures will resume.