One of the immutable facts of sailing is that first the weather, then the boat has control over where you are going. Louise, Frosty and James and I were all set for a lovely night at My Marina in Ekincik but the boat decided to spit the dummy. It resolved itself, but since we had left so early, we decided the wiser course of action would be to go straight to Marmaris.
Marmaris is a beautiful harbour with mountains coming down to meet the sea in almost circular fashion. Marmaris is famous for its barbers and fire shaves, many restaurants and beautiful harbour, with four marinas in the vicinity. Mercier will winter here on the hard stand in the marina.
We woke up to a perfect sunny day on Netsel Marina and with great efforts from Frosty and Louise, James managed to wash the sails and get them dried and folded ready to be stored for the winter. Swanno will be happy to know that Louise gave the stainless another polish and James is having a cover made to keep the cock pit under cover.
In the evening, we wandered round Marmaris enjoying sculptures and fountains that dot the large Town Quay. The fountains are quite a vibrant area full of fisherman and children, who come in the cool of the evening to watch the spectacle.
The Octopus is on the Town Quay and at night looks quite mysterious, with it's iconic eyes looking for prey.
We wandered about town finding a rooftop terrace, whiling away the time watching boats moving about the harbour, docking and people enjoying posing for photos on the town quay.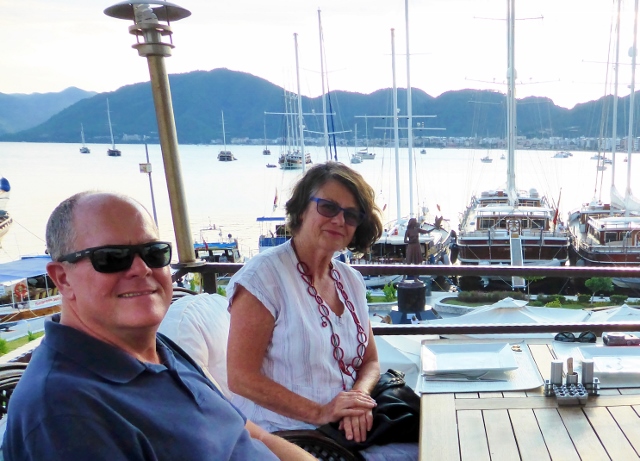 Frosty and Louise have left for Istanbul this morning. They are headed for the glamourous port of Istanbul. We wish them a safe flight home and hope they take good notes in Istanbul for us.  We managed to have some fun last night with the local ice cream man. In Turkey, even selling ice cream is a chance to be a "showman".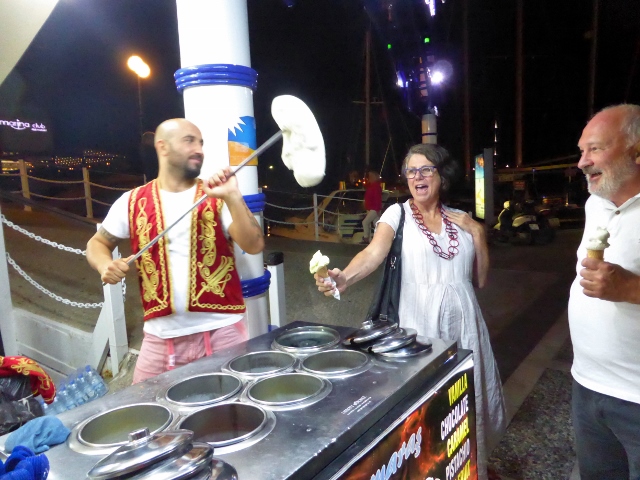 This will be the last blog until we are in Istanbul. It isn't exciting to hear about cleaning and packing, but hopefully we will have things to report from Istanbul.