We had a few more things to talk about in Istanbul.  Now that we are back at home and respectably moved in, I thought I would share a few more photos. While I am sure I should blog in order, I enjoyed this museum so much we will start here.
One of the first things you should do in Istanbul is buy a 3 Day museum pass and you can have entry without queuing for tickets at each site. Having said that the museum pass doesn't include the carpet museum.  The carpet museum at Haghia Sophia is absolutely worth a visit and if you go early, as we did you will have the museum to yourself with the guard's full attention, which was wonderful because he shared his knowledge of the rugs and carpets with us.
Louise and Frosty were scouting out Istanbul and sending us wonderful tips, including visiting the Carpet museum. Their photos convinced us it was worth a visit.
The Carpet Museum is now housed in the circa 1742 Imaret attached to the rear of Haghia Sophia, immediately adjoining the Sultanahmet entrance to the Topkapi Palace and the Ahmet lll fountain. The Imaret was used as a soup kitchen for the poor with sinks, ovens and stoves to prepare food for the poor.
The Hurriyet Daily News describes the three different chambers lining the courtyard and their carpet: The first gallery displays carpets from the Anatolia Seljuk,  the second gallery displays Central and East Anatolian carpets from the Ottoman era, while the third gallery contains carpets from Usak,along with the ovens.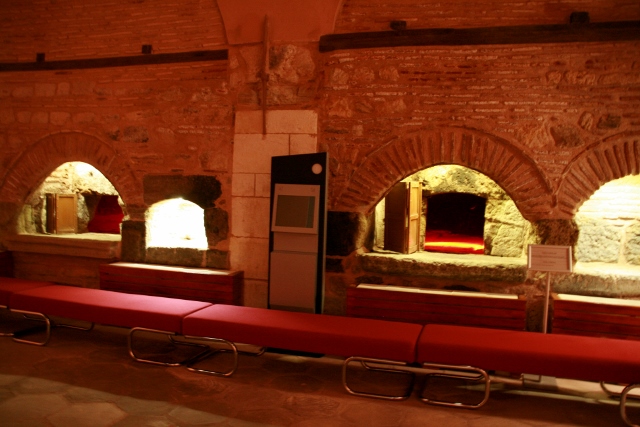 If you have children or you are still a kid at heart, you will enjoy the interactive carpet on the floor in front of the oven. As you walk over this space the tiles illuminate a carpet under your feet. Our wonderful guide showed James how to spread his arms to attain the full effect. There was a bit of laughter as these two men tried to assist me in getting the perfect photo.
There are plenty of English displays, so you learn about the different carpets with the aid of our very able guide. We enjoyed this museum and we loved the fact that we were able to learn more about the carpets, musing about how long they have survived.