We arrived at Riposto after battling 30+ bullets of wind coming down from Mt Etna.  We are sleep deprived, because for nights we have been joggled and jiggled in marinas or at anchor.  There has been no respite.  There hasn't been much sleep either, so we were glad to get into Riposto which is very well protected and the promise of stillness made us smile. There was a 40 metre motor yacht, with a 5 piece jazz band playing Cole Porter and Sinatra on the upper deck. Sublime.
Then suddenly the cacophony began. We realised it was a Feast day or a festival and initially the church bells rang ever so politely.  At first one church beginning and we sighed, smiling when they finished, one minute later the next church would begin, ending finally in dueling church bells  Do you know how many churches are in even a small town like Riposto?
Ah, but the bells weren't  the end of the noise; even in daytime, there were rounds of fireworks. Loud fireworks from Riposto pier in broad daylight with puffs of white smoke. Later, louder fireworks from nearby Giarre. Then more church bells, changing churches but going discordantly for about 20 minutes. Please note this was Saturday.  They went into the night with the last splendid 60 minute fireworks display taken in by we two zombies.  Pale faces and dark circles under our eyes, clapping feebly, wishing for the noise to stop.  We collapsed into bed and slept so soundly until the church bells began ringing to wake us for matins, here at 6:15 am.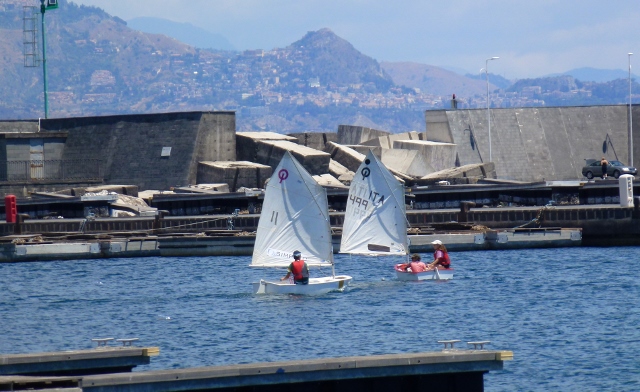 We couldn't spend a whole noisy Sunday here in Riposto, so we decided we would take the train  to Taormina.  We had missed Taormina because it was too windy to anchor in the bay yesterday.  The train station is beautiful. Giardini-Taormina, a very 18th-19th century station, with beautiful columns and painted ceilings. We took the bus up the 2 km hairpin turn path. Breathtaking.
What it is about hill top villages? Especially hilltop villages that over look the sea, Taormina is beautiful and ancient. Shops abound up and down every alley. We peered into bakeries of beautiful marzipan, cannoli, almond biscuits and toffees. Gelaterias and cafes abound.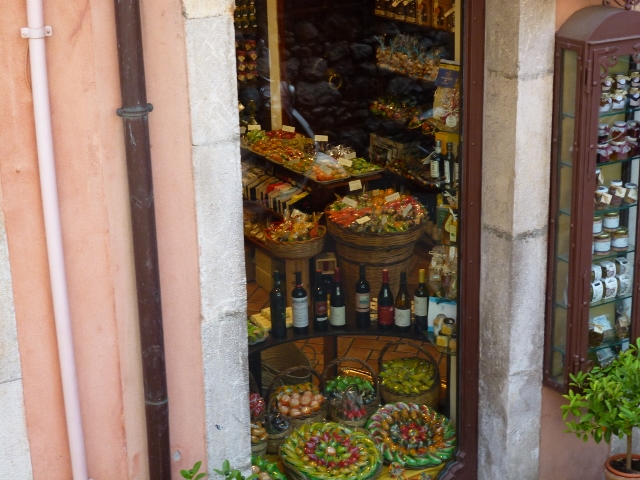 We looked onto balconies planted with flowers and pots of majolica soldiers.  We ambled, looking at shops and found ourselves at the Teatro Greco.  The Greeks, thousands of years ago, built a theatre in Taormina and the arches behind the stage looked out over Mount Etna. The Greeks were perhaps the original view junkies.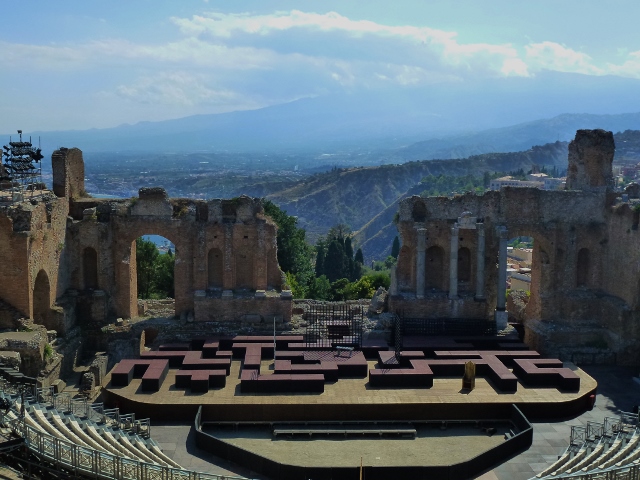 I just keep looking at Etna, saying please don't explode, I like you just the way you are.
[For the two hours we having been working on this blog, the church bells have rung for about 35 minutes, simultaneously with wonderful fireworks and in the foreground the restaurant's band singing the Beatles.  Tonight, we aren't so tired, we are enchanted.