Merhaba, now you know how to say hello in Turkish.
We have been made most welcome in Turkey in one of the finest marinas we have seen on our journey.  It is tight quarters, so they assist you in and out, with men on the dock and nudges from the man in the rib (Zodiac).  The showers would have Geoff and Deb purring, with big rain shower heads and beautiful fixtures but also with air conditioning. Hair dryers in air conditioned comfort. Being sent to the showers in Bodrum Marina, is more like a reward than reprimanded. It is heaven, mainly because it is so hot.
Turkey isn't so different from Greece, until the evening call to prayers, which reminds you that you are indeed aren't in a resort but in a different country with different norms. I have a few dresses and they will be getting more wear because I will need them to visit mosques and actually they are cooler.
Our first afternoon was busy with clearing customs, James went to the marinas' Customs agent and they looked after everything, including delivering us to Customs hall across the bay via the same rib.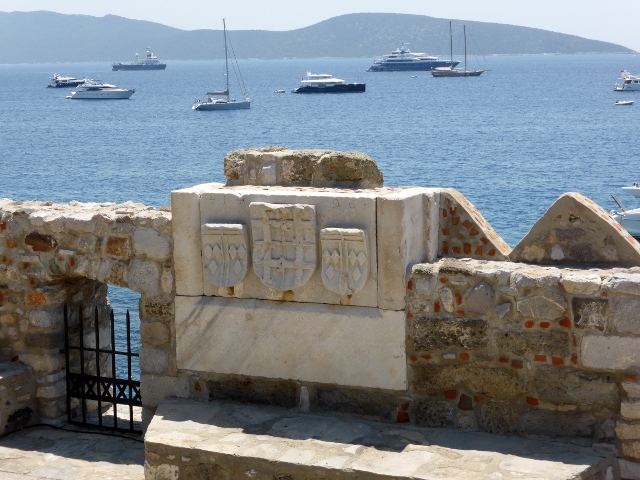 We also met the owners of a Sydney 48′ Oceanis called Gumnuts, Shiree and Martin hail from Leura and have the big sister to Mercier, it seemed twice as wide as ours. Nice to say hello and hear about their plans for travel in Turkey, discuss blue cards and transit logs.
The next morning we went across the bay to the castle and high on the ramparts you can see how beautiful Bodrum is with white houses reaching down the slopes of the hill and amphitheaters on the hillside.
The Castle of St John is another Crusader fortress and it is so interesting to see the dated heralds on the wall. There is a garden inside the wall and a chapel turned mosque that is now a museum. Another tower houses the Underwater Archaeological Museum which is fascinating.
Lamb is the national dish, so James is happy and we are looking forward to visiting fruit and vegetable markets.I confess that I was thrilled to see a Starbucks, mainly for the icy Frappuccinos, as I haven't found gelato here yet.  I spent a few years here in Izmir, Turkey as a kid and a bit of my Turkish came back , I could remember the numbers but didn't recognise one name of the days. No one has snickered but I do wonder if I can trust my memory.
We are so excited to begin the Turkish adventure and also thinking about the friends that will be visiting soon.  Rene and Richard your room is ready.
We now have an idea about anchoring for the next few days and not sure if we will have internet coverage or not. So we will say happy birthday to Ben Samara and Lorraine Samara, hope you have wonderful birthdays and are thoroughly spoiled. We were glad to hear that Geoff and Deb made it home safely. Hope to hear very soon that Clare is 100%