On Monday had a perfect day, with little wind to motor east, past Onassis' island Skorpios. Further south, we swam at N. Thilla (water temperature 21degrees C). When I say a short swim, you probably get the idea, still seemed very chilly once you jumped in, only the surface was 21 degrees.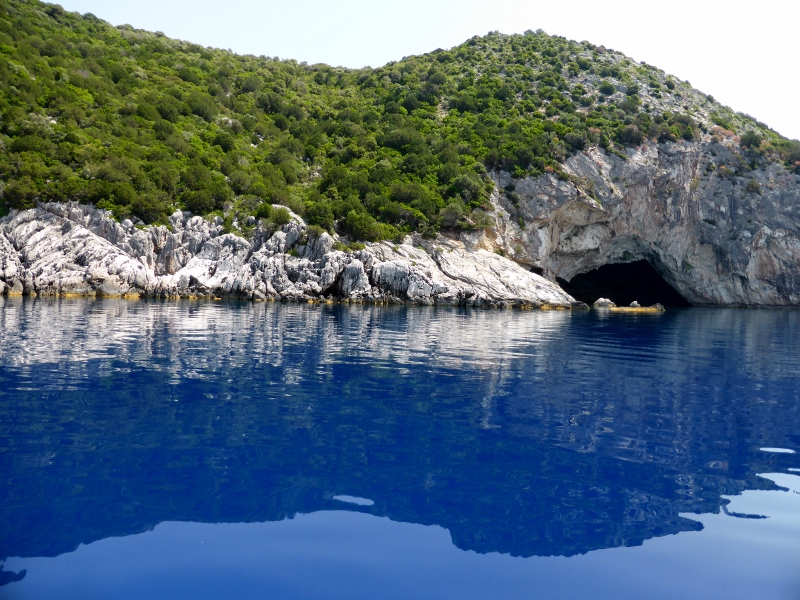 We continued south to Papa Nicolis' cave, where we were astounded by the depth of the blue water. There are many caves in this area of Meganissi. The island is the whitest limestone at the water's level or stained a pale pink with iron.
Mercier motored north to Porto Spiglia, Meganissi a well situated bay on the north of the island. A welcoming party was waving from the dock and we moored stern to along a pontoon, On a pebbly beach there was a large open structure with showers, food and a bar. What a hospitable, industrious family, who never seemed to stop looking after their guests.
We walked up the hill to the village of Spartakhori, quite a steep climb, but with a promise of views.
The day had finished a bit cloudy but the views were still spectacular. There is a lovely little cafe, with great views, again the patio was just covered with an open air awning. The hand painted sign over the door said Algida, so I thought that was the name of the cafe. Sharron saw my mistaken Facebook post and let me know Algida is the brand for Streets ice cream in Greece.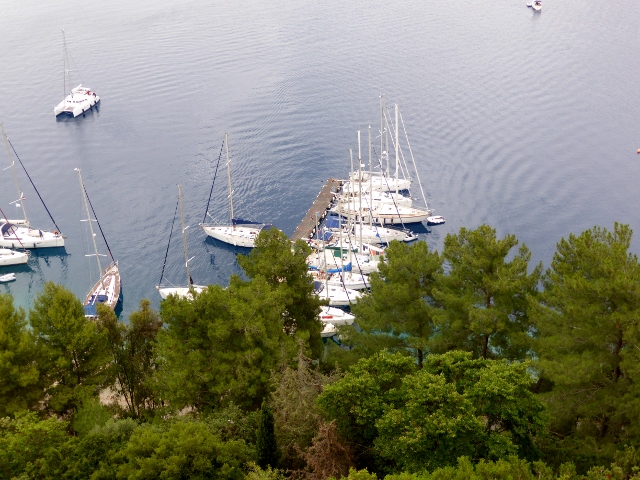 We had a wonderful dinner on the beach, surrounded by watchful Guard Geese. The pontoon was fully subscribed and the voices of many sailors could be heard in many different languages. As the ouzo came out and the night wore on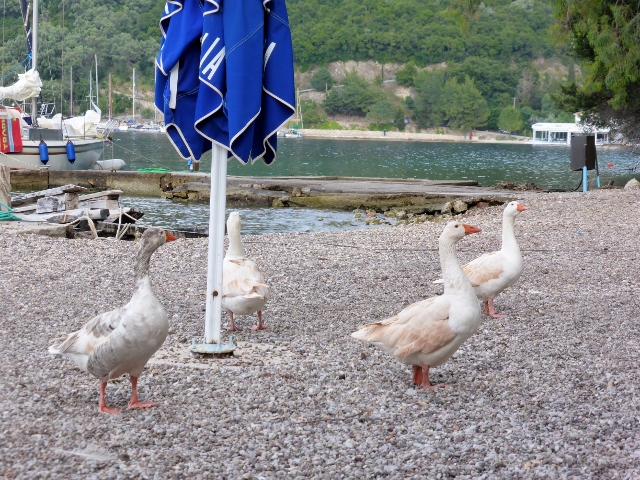 We left for Sivota and found a beautiful little bay but it was fairly shallow. Great Tavernas lined the waterfront, we stayed on the pontoon with the Stravos Taverna, chatted with Phyl and John, who had been visiting Greece for 21 season. They gave us great tips about Kephaloni and Ithaca.