The Sojourn sailed into to Prince Rupert on the 28th August. Sandy and Gaila were not sure our visits would coincide, so it was a surprise when we received a text saying hello.
It was very foggy, rainy and visibility was low, so the ship's fog horn blowing as we came up the channel. The noise woke Ric up and he said we are having breakfast come up to the Crest hotel. It was right next to the dock, so we walked up prepared for the 5 minutes in the mist.
On the way up to the hotel, we passed the Museum of Northern BC.  This post and beam building isn't Corinthian. The beams are massive. The museum itself is created to resemble a Northwest Coast longhouse. The artifacts are incredible.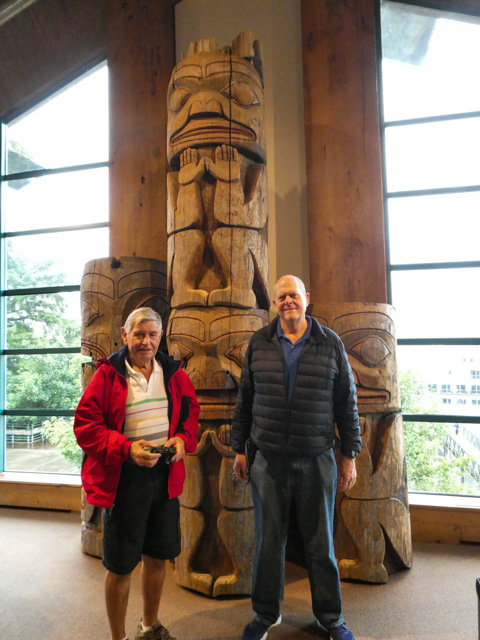 The masks and artifacts are handsome. There are weavings, capes made of maarten skins and walrus whiskers. Buttons are incorporated into the weaving and made of mother of pearl. This red mask might have given you pause on a misty evening.
Afterwards, Sandy wants to go for a walk in the pouring rain. She is serious. She has an umbrella. She shows us the trail map. The rain is getting heavier.
We go back to the Soujourn and find our raincoats and umbrellas and change to our mud shoes.  Walking past the Port Edward waterfront, past the entire industrial waterfront and then on a path, at the end we will find a restaurant. The industrial waterfront goes on for quite a ways, the trail is the old goods train line that has been converted to a hiking trail. When we finally got to the trail head, the outlook was gorgeous and large bridges made the trail easy to traverse.
Still, it was raining.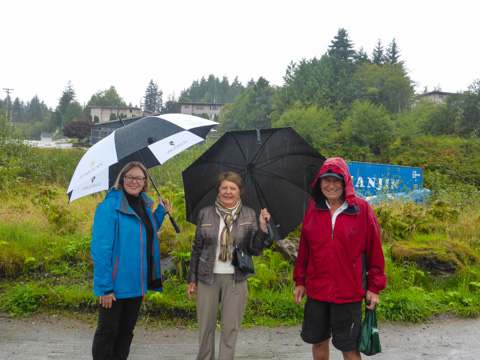 The restaurant at the end of the journey had every appearance of being closed. Luckily for us, it was open and had the best French dip sandwich in Canada.
We return to the dock and we are getting used to the incessant rain, so we go and look for the Sunken Gardens, a small two story gardens near the courthouse. This rain means the Sunken Gardens are lush, even in late summer.
We will be meeting up with Ric and Sandy in September in Vancouver, but it's great to catch up in Prince Rupert, BC.  Even in the rain.