As many of you know, the weather in the Med has been very gray, wet and windy. We decided to come back to Dubrovnik early and leave Croatian sailing with a graceful exit. All the better to prepare Mercier for winter. So for you sailors out there, this will be the last blog.  We will still be posting a few pages about places we are travelling to and family events.
Last weekend, we cleaned, stowed and polished. All the laundry has to be done and put into vacuum bags. lifelines need a coat of WD 40, Sails and bimini put away on the last day of the Bora, so all incredibly dry. Each cabin, ceiling, walls and floors washed with vinegar and water to keep the damp at bay.  Yesterday, James went to check that everything was shipshape and say goodbye to Mercier's caretaker.
We have moved into a small studio near the Ploce Gate in Dubrovnik.  So here are a few more photos of Dubrovnik in the rain including one of our favorite chill out bars. Visited by tourists, who have a coffee or a drink, a swim and read their papers or a book, while looking over to the island of Lokrum.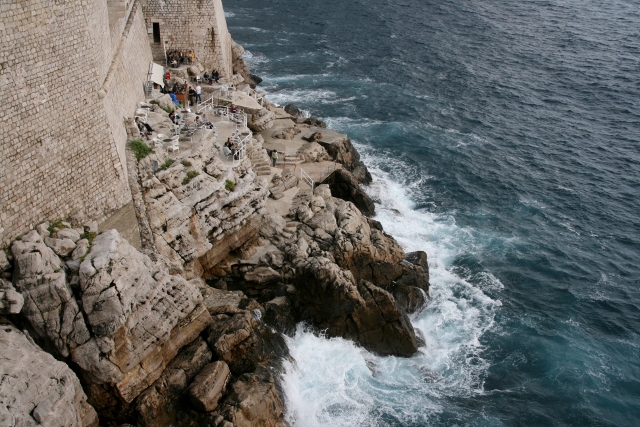 We walked the Bastion again, needed those stairs one more time and took a few photos of the amazing fortress city. We will play in Dubrovnik one more day and tomorrow fly out for a week in the UK, mainly near London.
Happy Birthday to Will Cuddy and  Jan Riley.  Harry Jenkins, your birthday is coming up too. Hope it is great.