Korcula lured us into its lovely marina although we planned on going to Lumbarda.  It was almost impossible to believe ACI Korcula was the same marina.  It is much quieter in late September and there is room to manuever.  Korcula town is also much easier to navigate in mid-September, there are still tour groups and cruise ships but it is definitely less crowded.

We decided to take the bus to Lumbarda in the morning and see if perhaps there was somewhere to have coffee.  Lumbarda is a smaller marina, with great vistas back to the islands off Korcula.  There is a lovely beach past the marina and we walk along til the end, visit the large Bistro Maestral for coffee and return to Korcula.
Walking around this old Venetian city fortress is wonderful, every corner gives you something intriguing to look at.  The views across to a bora denuded hill on the Pelasic peninsular illustrates the power of the north to northeast katabatic wind, which can blow up to 100 knots.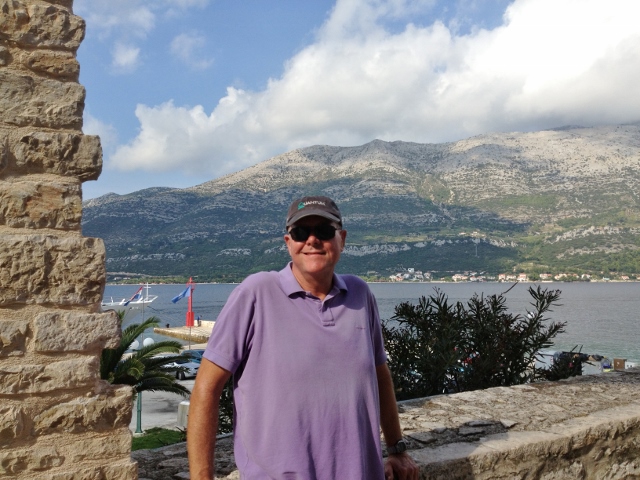 We were wandering down a street southeast of the marina, after shopping for supplies. We decided to walk to the end of a street to see if we could find steps to take us back to the marina.  We came across a Saturday afternoon activity for this time of year.  Here was a family making their own wine.It looked as if they had removed and mulched the stems, crushing them.  They added grapes to the press and then layered in the stems, more grapes and more stems. The grapes were in a press the size of a 44 gallon drum in the garage.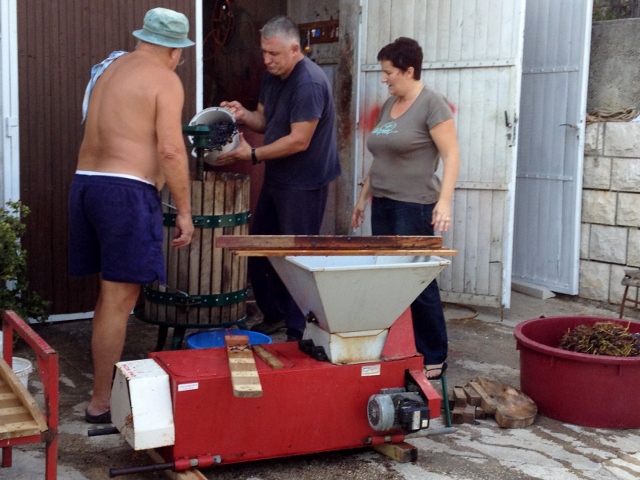 Autumn is bringing variable weather but much cooler, a very comfortable 27 degrees and cool nights for sleeping. We are starting to think about putting Mercier on the hard for the winter but we are hoping for a few more nights on the islands on our way back to Dubrovnik.