Tinos is most famous for a blessed icon of the Virgin Mary, which is second to Lourdes in granting miracles. Hundreds of Orthodox crawl the kilometer from Port to the Church of Panagia Evangelista up the stairs to the church to kiss the icon. Miracles are proclaimed and the benefactors give gold or silver offerings representing their miracle.
The interior of the church is beautiful with icons and many silver representations of the miracles. One miracle was of a ship which had been sinking, the crew all prayed to the Virgin Mary. Suddenly the ship stopped taking on water, when they looked at the hole, a big tuna sized fish had been sucked into the whole, staunching the flow of water, allowing them enough time to reach shore. To thank the Virgin for this miracle, a large silver sailing ship hung with 2/3 of a tuna hanging from the hole. There is a beautiful silver icon of the Virgin and a line of people waiting to say their prayers in front of her. There are silver babies, houses and other ships. We lit candles and were humbled by the faith you could feel in the church.
Here are a few photos of the church and the grounds of Panagria Evangelistria .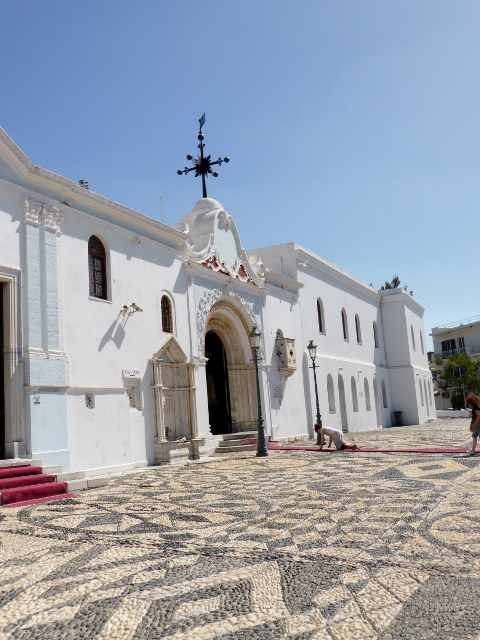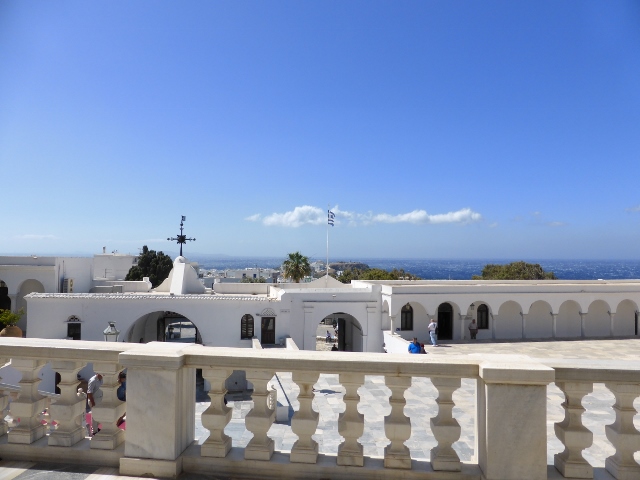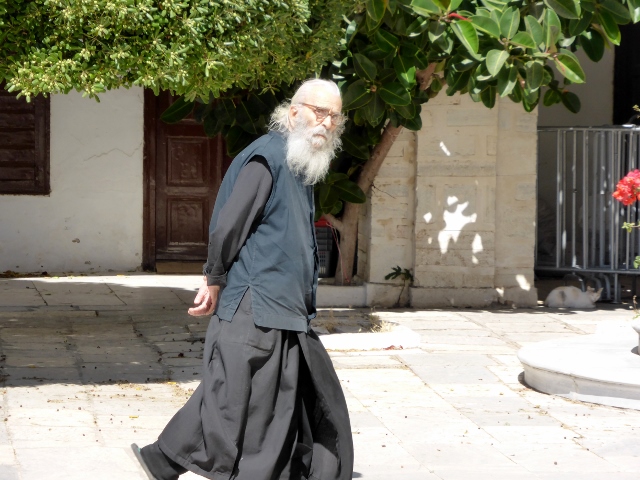 The meltemi is consistently blowing, gusts up to 50+ knots.  To look outside you would think it is a perfect day, you step outside and you feel like Mary Poppins about to take off.  It literally sweeps you off your feet.  We have had to reef the bimini or we would have been flying with Mercier instead of sailing. The meltemi teaches patience.
We are happy to hear that Rosemary and Stephen made it to Syros and will fly back to Sydney on schedule.  We wish them a safe trip.