On our way from Corfu to Paxos, the six of us: Diane and Graeme from Auckland, Deb and Geoff and James conversed on on how sailing from the time they were nippers, then sailing cherubs, wooden boats, Finns, Javelins and OK Dingys. Ocean racers came next and there was discussion about the differences in sailing from Auckland or sailing in Sydney.
The sailing fraternity bonded across Country lines, especially since women like Jean Wilmot, fed a lot of these young sailors, at many regattas. When Aussie sailors went to Auckland they billeted with the Duncalf family.
The affection Graeme and Neil had for Jean, meant when James and I met them in the Aeolian Islands, and when they realised we knew Rene, Mandy, Tina, Bobby, Mandy, Dixie and Jean, we all knew we would be friends.
Jean delivering Cherubs to Henley Beach (SA) in 1976. Jean driving and Rene, Bobby and Crew on the trailer.
Diane, Deb and I were talking about the ebullience we felt being in Greece again. We have all sailed in Greece before and we talk about earlier trips and places we loved. Visiting favourite restaurants like Thymani in Paxos and Avre in elegant Kionos.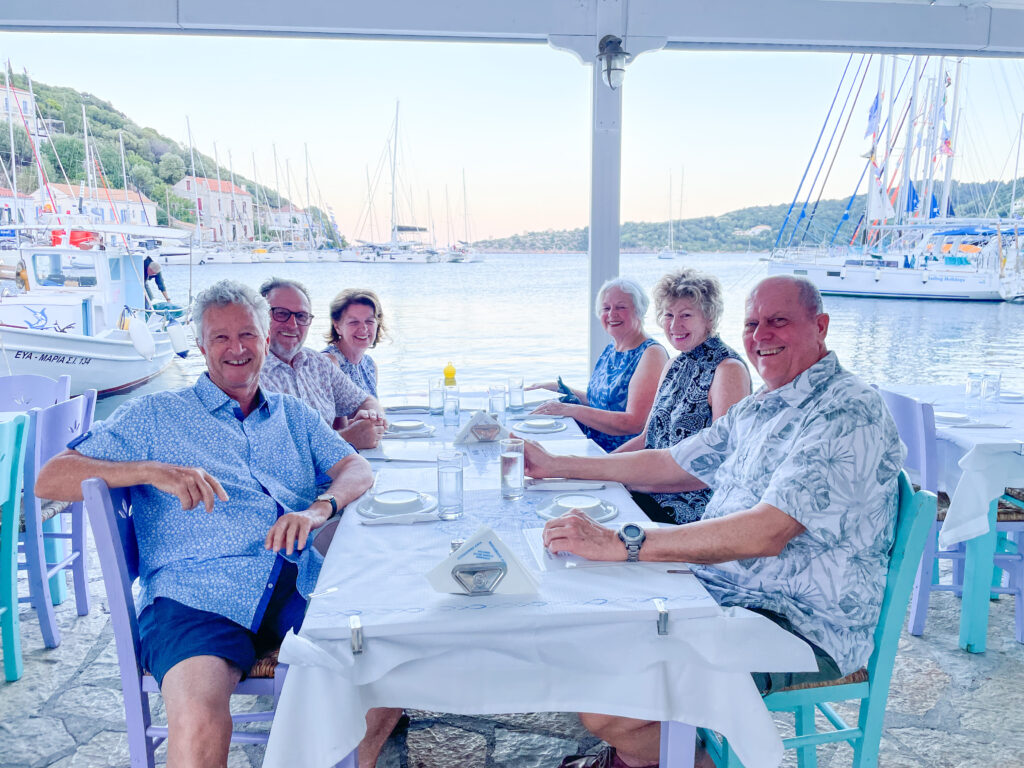 Avre in Kionos
The weather has been sunny, warm and the water temperature has been about 26 degrees. Seeing the blue water and watching herons in flight while we are playing catch in the sea, is relaxing and enjoyable.
Swimming on the way to Vathi
Debbie and Geoff are waiting for an email from Tom and Steph, she was sure the cranes we saw were storks.
Our crew, with a century of friendship travelling in the Ionian,