Last Wednesday, our dear friend Charlene took us to Sydney Airport and almost as quickly as we arrived the gate opened and our adventure began.
In Doha, we changed planes and instead of a drawn out layover, waiting for the next plane, we were surprised to see friends Gai and Russell. With plenty of time for a coffee in Harrods Cafe in Doha Airport, we sat and chatted about plans.They were on their way to Bucharest. We couldn't have planned it better.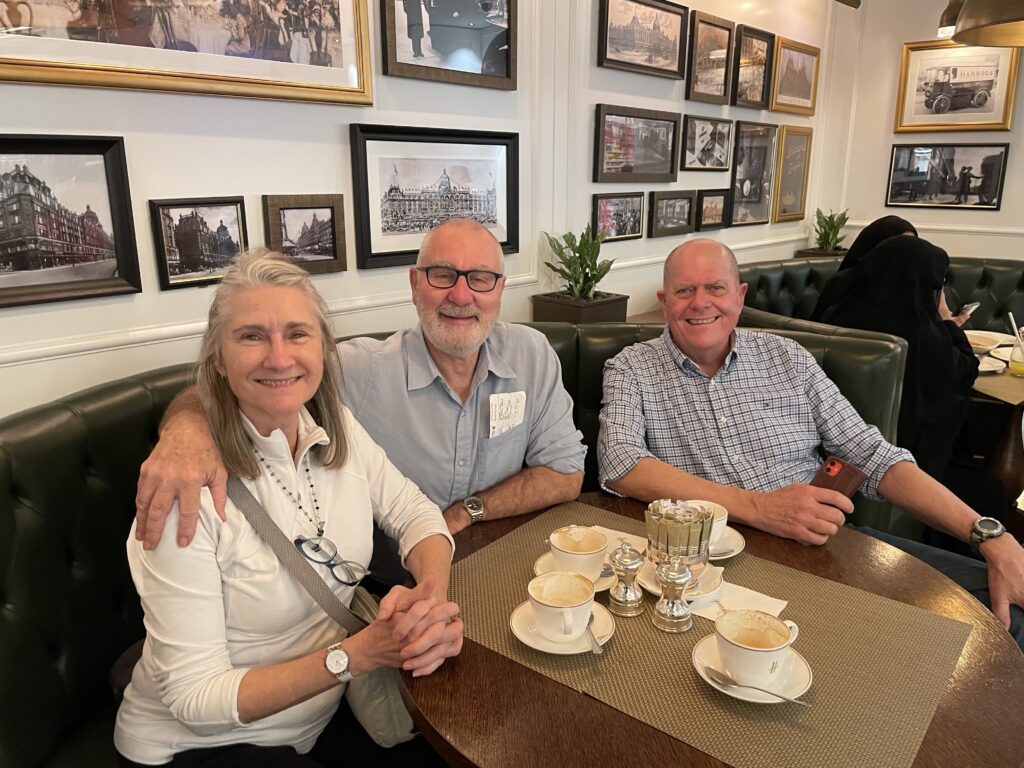 Soon, we had to say goodbye and we were off for our flight to Corfu.
Our flight in Athens landed right on time, but the pilot said our jet bridge wasn't free and we waited for close to an hour thinking we would miss our plane- the last plane to Corfu.
When we were finally able to deplane, a young airline passenger officer met us and told us to follow her running. We ran past the masses exiting planes and into the terminal. She says 'keep up' as we run past baggage claim and into customs.
She shouted "go to Gate 14" in Customs and when we are cleared, she is on the other side and races us into the Domestic Terminal. where she shouts to us to go to Security screening and "Run to B19. Hurry!!!"
We are running to B19, heart racing, when we hear "Merro!" And we turn and there before us are Debbie and Geoff. We might miss our flight to Corfu, but we will be in Athens with our friends and two of our partners in this adventure. It was better than meditation, blood pressure back to normal.
A storm hit Athens earlier in the day and everything was delayed, but our flight to Corfu finally boarded, with all our luggage onboard.
Turns out our hearts weren't racing as much as the Californian couple, who thought they had missed their flight to Corfu, where they were being married the next day. They arrived five minutes before loading. Imagine the champagne flowing after getting to Corfu realising everything was going to be alright.


Our Mediterranean sailing buddies, Diane and Graeme met the four of us at Europa, in the Liston. And we all toasted to the upcoming adventure! Yamas!!
PS: Thanks Charlene, that was so appreciated.