Thursday we left Santa Margherita and sailed out the harbour to pass several hours and 20 miles to reach some of the most amazing villages we have seen from the water.  Cinque Terre is an Italian National Park and spans through 5 villages: Monterosso, Vernazza, Corniglia, Manarola and Riomaggiore. The villages were accessible only by boat for many years and so have been protected and have remained unchanged over centuries.
We would slow down as we came to a village and get as close as we could to the rocky shore, take a few photos and then go onto to the next.
At Vernazza, we stopped and had lunch and then a swim in the 26C degree water. Mercier is the best yacht we have been on for having a quick or a leisurely swim off the stern.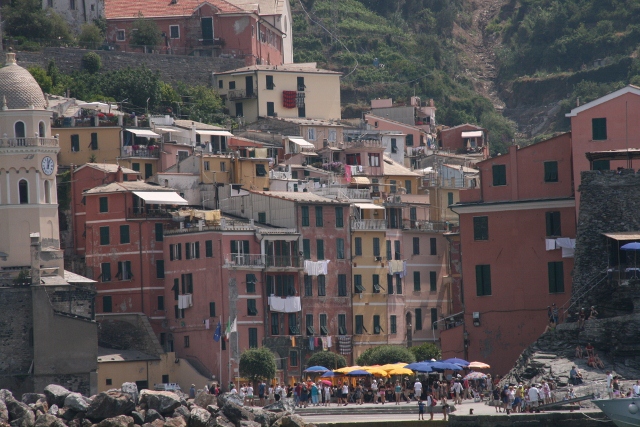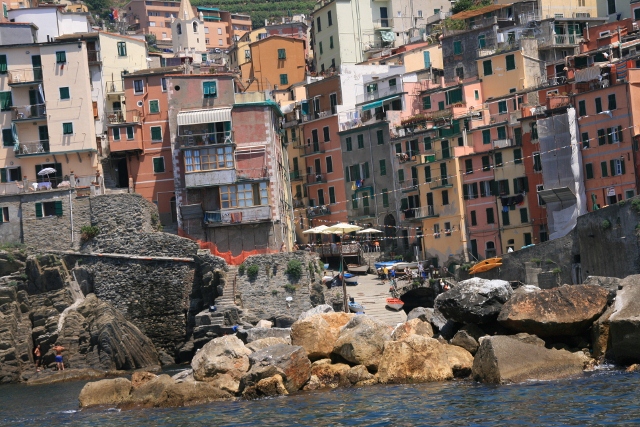 On Thursday night we went to the best restaurant in town where normally bookings  are mandatory, however, the restaurant was almost deserted as Italy was playing Germany in the semi final of the Euro Cup 2012. It was quite obvious who the winners were, with car and ship horns blaring at full time.
On Friday we visited each of the villages by land and each one has a different look and feel, with most of them having gardens and vineyards going up the hills behind them in terraces. Pastel houses on verdant hills against bright blue water and sheer slate grey cliffs.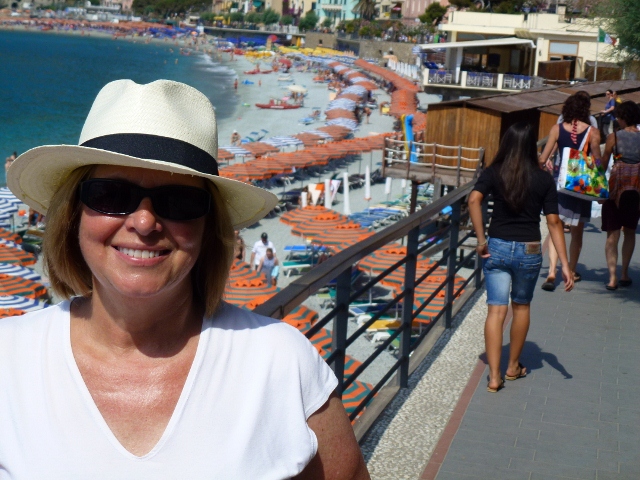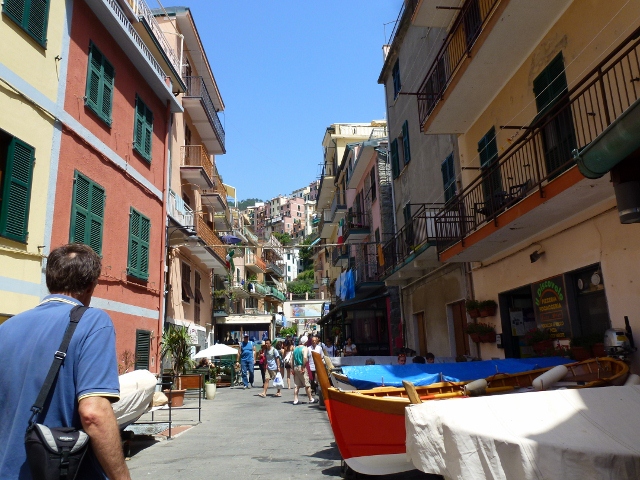 Two of the villages had massive damage on the 25th October 2012, when flood waters from the steep hills behind coursed straight thru buildings and into the sea. Some of the trails are still are closed, but the resilience of the people of the Cinque Terre shines through and many businesses are rebuilding or back to normal.
We finished the day's travels at Porto Venere – another town nearby with lots of history. The town flag is the flag of St George (the English flag).
Hope you are all well, ciao bella  James and Gaila
PS: Happy Birthday to Matt and Adelaide, whose grandparents might be reading this and pass them our birthday greetings. Also Simon Jenkins and Ivan Wheen, we had a little drink to you on your birthdays. Hope you had great days.