Friday's forecast was for  a wicked southerly in the Aegean and so we did 40 miles in an attempt to make safe harbour at Tinos by Thursday afternoon.
It was warm and hazy, so after we got settled we spoke to a few taxi drivers and checked our reference books to determine which beach was the nicest.
We selected Stravros Beach imaging a beach with chaise lounges and cocktails. Actually, the beach is in the church yard and was full of families, with small children having a wonderful time. Singing and splashing Grandpa and uncles, swimming or bobbing depending upon ability. What a wonderful church yard. Across the bay is Poseidon's sanctuary, we could see some ruins in the distance.
When we returned from our swim, we were rinsing off from the stern shower, when the water pump refused to work. Here are four of us, a salty bunch, trying to use the bucket to rinse off, so we could go below to look at the waterpump. The taxi drivers were wide eyed, they were unused to seeing such a sight in the middle of town.
Friday morning James fixed the water pump with Stephen's expert advice. There were no fierce winds from the south but it was miserably hot and humid. We went to check in with the port police and on the way back we saw a pelican come dancing into the children's playground. The little boy's Mum is telling him to pet the bird for a photograph; the little boy was very hesitant. However, when the Pelican decided to visit Mum, she fled the scene.
We had a nice traditional Greek lunch followed by a traditional Greek nap.
We went to the beautiful Symposion Restaurant for dinner, off the town quay and near a beautiful marble fountain for dinner. We talked about what beautiful Greek Islands we had visited and discussed our plans to visit Syros on Saturday morning.  Little did we know that at 5:00 am, we would all be waken by a meltemi and all our plans would change.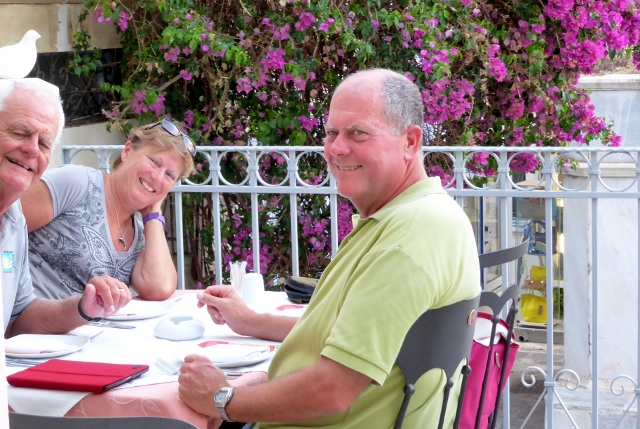 With gusts up to 50 knots and spin drift blowing off waves,  Mercier is fixed  to the quay. Rosemary and Stephen chose the wise course and boarded the ferry to Syros so that they could make their flight home on Monday. All the advice was that Sunday would be too windy even for the large ferries. We wished them Bon Voyage and safe passage, while we sit here in the swells of Tinos harbour. Tomorrow, we might go to church.
Happy Birthday Simon, aka Basil!