We have had an exciting time since we left London, too busy to blog.  We are going to share some photos and catch up on the blogging today.
We are staying in San Diego East County with Anna and Harv in Fletcher Hills. We have been visiting east of Fletcher Hills in Buckland Springs with lifesaver legends, having bonfires and hearing bout the good ole days.  We are also happy to go west and visit the Harbour and La Jolla which are nearby.
We visited Embarcadero Park, which is a reclaimed area facing the Navy shipyards.  It is a part of Seaport Village and has plenty of cafes, kites and views.
On Wednesday, we went down to La Jolla Cove for a walk along the cliffs.  We started off watching (and smelling) the sea lions and seals. Pungent is not be strong enough to describe the smell.  As we walked along we saw a pod of dolphins come into the area probably chasing a school of fish because the pelicans were also doing sweeps of the waves trying to catch fish too. They entertained us for quite awhile taking turns to capture our attention.
As we walked towards the Children's pool, we passed a cliff and gulls and pelicans were there to preen and rest, before flying off in formation.  It was a wonderful site because we were on the cliff top and their formations were swooping right past us.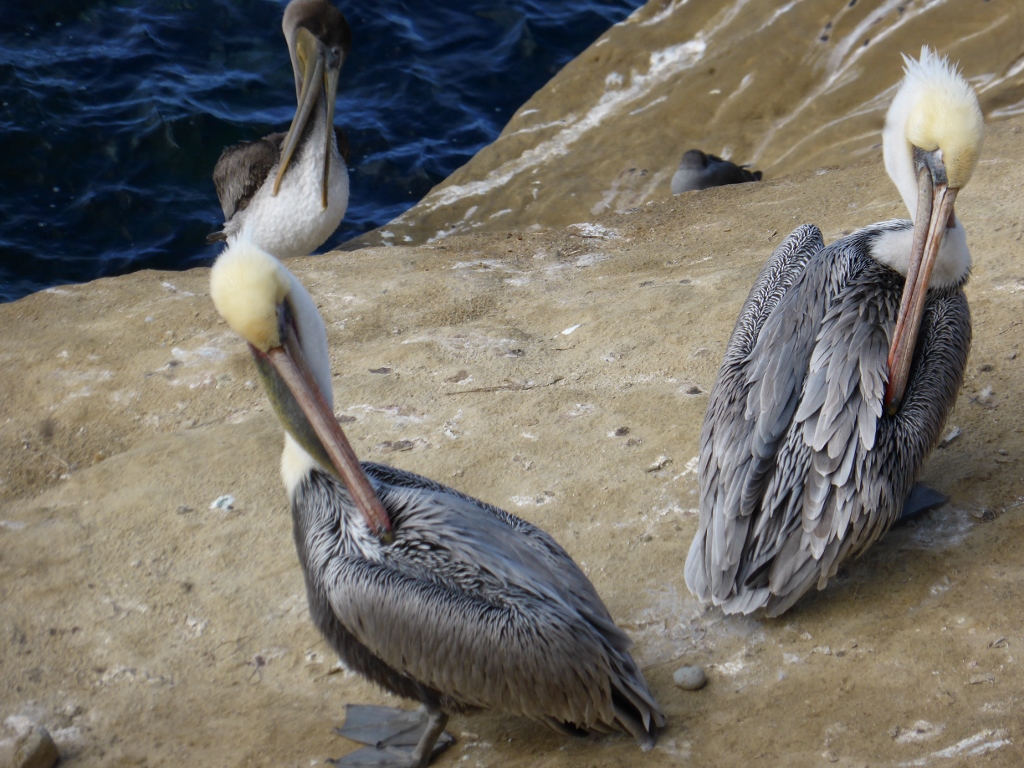 San Diego hospitality has been unsurpassed and we are enjoying life in the Hills with Anna and Harv.