Travelling is wonderful. Even the problems you encounter are part of the journey.  In Malta, you meet some some great Boating Technicians. The Beneteau dealers here provide excellent service.  If you have Dock and Go issues, ZF in Malta are the only dealers we have found to diagnose the problem and quickly get parts in to repair and get us up and running.  We can highly recommend Malta if you need boat repairs and supplies. They are qualified, helpful and personable; they speak English, which is a wonderful aid to communication for we language poor only-English speaking Aussies.
When your friends visit, you can put them to work, Frosty and Louise arrived on Tuesday after 38 hours of travelling.  Let us pamper you: a shower, a bit of fruit and an icy cold mineral water. Next we had out them walking on the boardwalk to wake them up and absorb the sunshine. Lunch overlooking Valetta Harbour and then back to the boat to get their feet up and adjust to the time difference.
On Thursday, there was no more molly coddling. A leak sprung up and let 300 litres of fresh water into the bilge.  Frosty and James had to get to work, drain the bilge and then determine where the leak was.  It was like a methodical engineering process, otherwise known in Aussie as "productive men's shed session". Amazingly, no advice was given, calm reigned and the leak was found (in the foot pump), fixed and hurrahs went up all round.  We keep checking to see that there was just one leak, but all systems go. Thanks Frosty, welcome to your holiday.
Thursday afternoon, we were free to go to Mdina and did some sightseeing.
We then heard our friends from C'est La Vie were back and when we returned they were parked right next us.  We got together and compared notes about where we had each been between our last visit.  They loved Ragusa, so it's now on our bucket list for the next trip.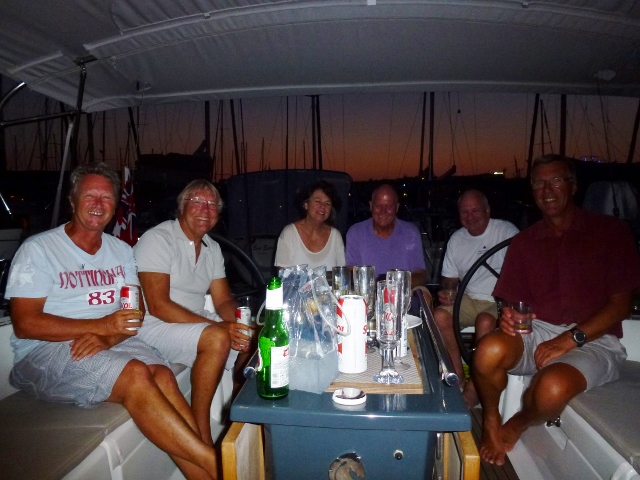 Ed Earl, you were on our mind and there were a few times during the day we celebrated for you. Glad you had a wonderful birthday.