We have been doing side trips, while we were in Ece Marina in Fethiye. The marina is so convenient, with showers just up the pontoon, cafes, and a Carrefours market . The orange 'domus' (shared taxi) takes us to many places on it's regular run – a circuit about 5 km around Fethiye. We can also walk into town and take other domus to Calis (pronounced Chalish) or Oludeniz. Domus services in Sydney would be absolutely wonderful, imagine being able to pick up a mini-van going from McMahons Point to Neutral Bay, do your shopping for $5.00 return. Better than a bus and they pick up anywhere, drop off at a bus stop. They are incredibly efficient and easy to use.
There is also a shared water taxi between Fethiye and Calis, which we learned about from a great local blog, Turkey's for Life. Julia talks about life in Fethiye and travelling about Turkey. A great resource for sailors sailing the Turquoise Coast, because she covers so many areas of Turkish life.
Once Lesley had arrived we were ready to depart, engines starts right away, all systems go until we get to the passerelle, which after two weeks of not being removed, firmly refused to let go its mooring. After much ado, James had to unscrew the whole fitting and take the entire fitting to Captain Eddy, who effects such repairs in Fethiye. He had the boat next to ours on the marina, he said "Leave it, it will be 1 hour, so we had lunch. James went to collect the piece but returned crest fallen, no one at the office. You think we had dinner in Fethiye, don't you?
But can we say Captain Eddy delivered, although it took 90 minutes, for the princely sum of 40 Turkish lira ($AUD 20), Thank you, Captain Eddy and to your industrious team.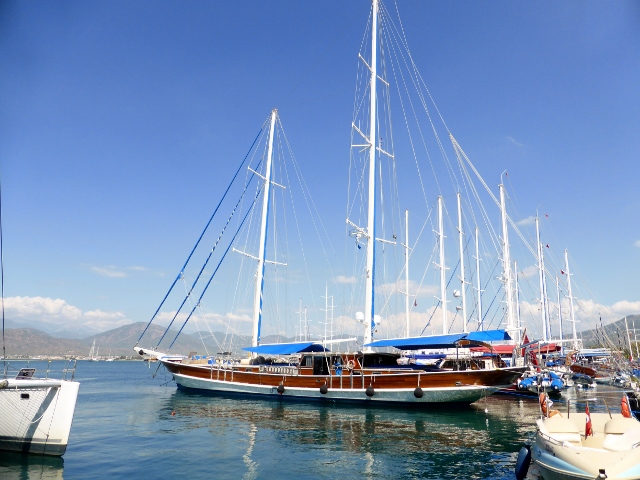 We had a lovely night anchored off Gemiler Island, swimming, watching first the paraglliders then the supermoon rise over the mountain.
The next morning, we sailed past Oludeniz, also known as Costa del Blackpool, then Butterfly Bay, so that Lesley could see the sights. We then continued motoring to Kalkan, for about a four and half hours. Oludeniz is in serious danger of becoming over developed. Thanksfully Butterfly Valley is unspoiled.
The coastline is not conducive to anchoring, you sail pass Long Sandy Beach and arrive in Kalkan.
Kalkan was destroyed by an earthquake in 1958, so the Turkish Government said to the people, let's start from scratch up the hill. Move forward 50 years and an entrepreneur from Istanbul purchased the old town and now it could be called Costa del Salcombe*
No domus here, just stairs and great shops and stylish restaurants, thank goodness Lesley is here to keep me company.[Louise Sullivan, we are seriously considering a woolen kilim, we need your expertise. We will bring you back.]  James is able to sit on a rooftop terrace and watch over Mercier. While Lesley and I try to determine if the leather bag is a real fake or a fake fake, some T shirts even have signs advising which is which. Lonely Planet says "Kalkan is not a haven for backpackers and lager louts."
Last night we had a wonderful dinner on the rooftop terrace of  The Olive Garden, with traditional Turkish meze and dinners. 98% of the clientele would be well off British retirees or vacationers.  Every restaurant, all stylish, is the similarly full of the British. The entire town is the same, we thought we were in England. We were like sprightly Aussie kids, not a bad feeling.
*Salcombe is one of the priciest seaside villages in England.