Datca was full of surprises.  It has a large base of gulets, who always entertain with their nerve, daring and skill in mooring.  There were wonderful markets both for clothing, knock offs, famous Turkish towels, carpets and so much fresh food. Datca has some very interesting sculptures, it was interesting watching people get right up to the sculptures for a cuddle or a good look. There are many nice restaurants and cafes and a very handy small supermarket right across the street. There were so many nice shops and a garden with standard lantana, which might be exactly how lantana should be grown.
We had the good fortune to meet Henk and Hanny  from Sneek, who we moored next to on the town quay.  As veterans of Turkish and Dodocanese sailing, they gave us some wonderful tips on anchorages, Turkish wines and shopping for Turkish Towels. (Rene, I am waiting for you to go shopping, wish you could bring Deb, Lou and Sue too).
What makes Turkey seem exotic is the call to prayers, you will be doing something and it will resound around town.  It is a nice time to remember all those we love, those who are having a difficult time around the world and a time simply to take a breath.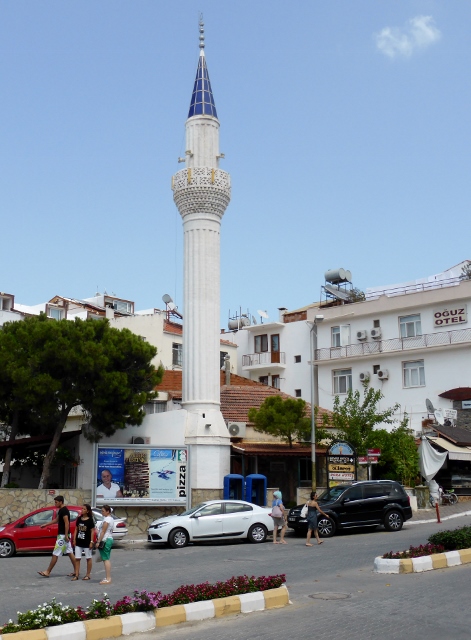 After a noisy night on the Town Quay, we decided to visit Marti Marina, which was highly recommended by a fellow cruiser in Knidos.  We left Datca Harbour and put the jib up and sailed down the Datca Penisula, the Greek island of Symi on our starboard bow.
Marti Marina is divine, it is like Christmas! There are two swimming areas, the bar side pool with its own pavilion. a beach with lounges and umbrellas, a wonderful restaurant, a hamman, patisserie, supermarket, laundry and a fully air conditioned shower and toilet facility. Helen and Joe, this comes highly recommended. See for yourself.
We are hopeful about staying another night here. In fact, I could spend a week here but James says we have people to meet and places to go.