The four of us have been having fun but today took a different twist. We trod the educational path, not once but three times. We are in Ekincik which is a pick up point to go on a local boat for a trip to the Dalyan River. Our guide,Ilyas Kaplan, picks us up early and first takes us to a cave with stalactites.
The most interesting part of this is how far into the cave this little boat can go and I am reminded of the stout boats that Odysseus sailed about in. They sail right onto the beaches with no problem at all.
Our next stop is Iztuzu or Turtle Beach, one of the beaches these Mediterranean Loggerheads (Caretta Caretta) have been coming to for around 95,000 thousand years according to local lore. The turtles have breeding grounds here and also in Zakynthos and on beaches in Libya. The hatchlings have to dig out during the night and not surprisingly some turtles had hatched recently, with the August super moon.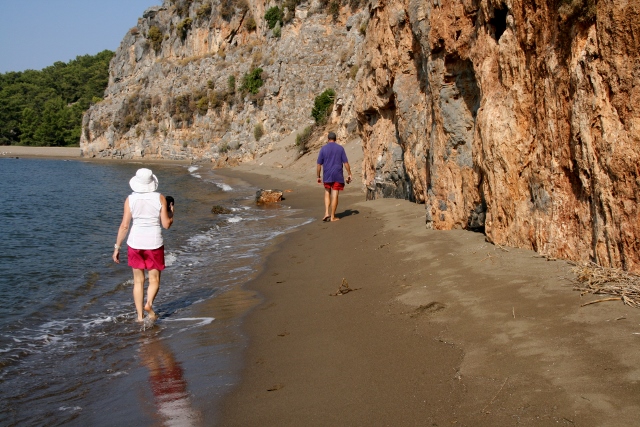 The tourist industry to come to see the turtles and other sites in the Dalyan Delta are massive and growing both by ferry, ship and by road and small boats. Only small local boats are advised to sail through the delta, many of them are cooperatives and create work for local villagers. There are a cadre of boats that feed the turtles fresh crab, so Ilias took us up to his favourite spot and the turtles came in. We had seen smaller turtles on the way just swimming in the water.
We sailed through the labrynth of reed beds and sand bars up to the Ancient city of Caunos (Kaunos).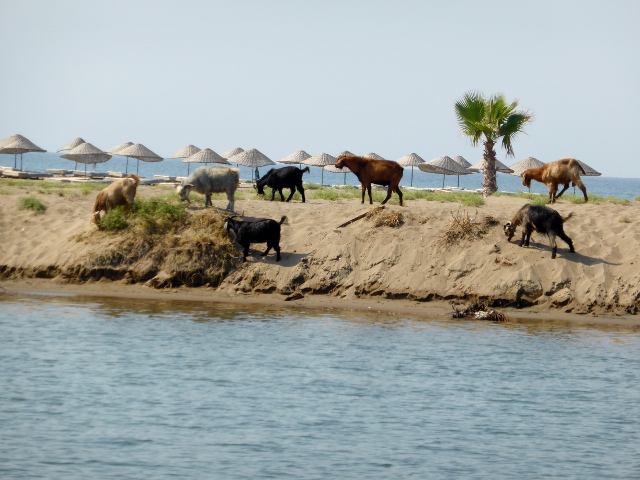 Like Epheseus, Canous had been a port town but the river silted up so it is now inland. Homer talked about Canous, the Carians and the Lycians; the Dalyan River is the meeting place of those three cultures. We saw temples, theaters and ruins in Caunos.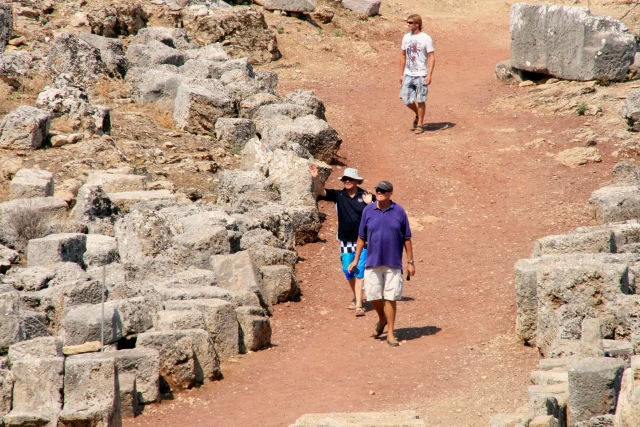 Canous might have eventually become a ghost town because of malaria.The theater is the most intact building on the site.  Like the theater in Kos, it would have held 5,000 people.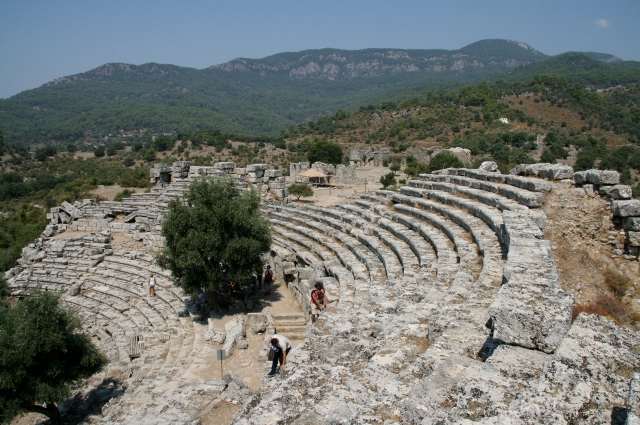 Closer to the old harbour there is a temple and the Agora. The Acropolis is at the top of the hill above the theater.
There was more to the day, but it was time for lunch, so we promise more tomorrow.
Today, we want to say Happy Birthday Charlene Bradley. We know you are having a good time.