Monday, we were hopeful of departing for Palma and left Bandol with high expectations.  The wind was about 20 knots and the seas were very choppy coming out of Bandol Harbour.  We thought it will calm down once we are outside, but no.  As we sailed out the winds moved up to 30 knots, then 35 knots as we sailed in the Gulf of Lion, which has a fierce reputation.  We decided its reputation was well deserved and went back to Bandol.  It wasn't just the wind making the sail uncomfortable but very confused seas and a chill in the air to rival Tasmania's.  Today was just to be seven hours of practice.
We came to an agreement – we leave on the next sunny day, which gave us two more days in wet and chilly Bandol.  Luckily, Bandol has wonderful restaurants and if the weather was wet and chilly, the wine certainly warmed us up.
Finally on Tuesday afternoon, the sun came out; we agreed that we would brave the Gulf of the Lion once more. We departed early on Wednesday morning.  This time it was manageable, Mercier sailed well in 20-25 knots, but the sea was still confused.  At one time, I could see waves approach the boat from three or four different directions. We were visited during the day and evening by dolphins who would ride the wave bow for awhile.  They didn't mind the weather at all.
It was still bitterly cold, but Mercier was plowing through the waves on a reach and the Mercalm was managing the confused seas for Gaila.  By about 11pm the winds dropped and so did the sea, the boat was going well under autopilot and James stood watch for most of the night, with a few hours of respite from Gaila. James had a visit from a sea turtle
By the time we sighted Menorca the seas were flat and winds were light. It was great to sight land and it wasn't too long before we were motor-sailing along the coast of Mallorca.  This was the Med of my dreams, azure blue seas sailing past rugged cliffs and lighthouses, viewing modern villages in the hill side.
We pulled into Porto Colom about 7:30PM and anchored just inside the harbour.  The waterside was active and we could hear dogs barking and see children playing along the harbour beaches.  The houses are a rich white against the blue skies, very picturesque.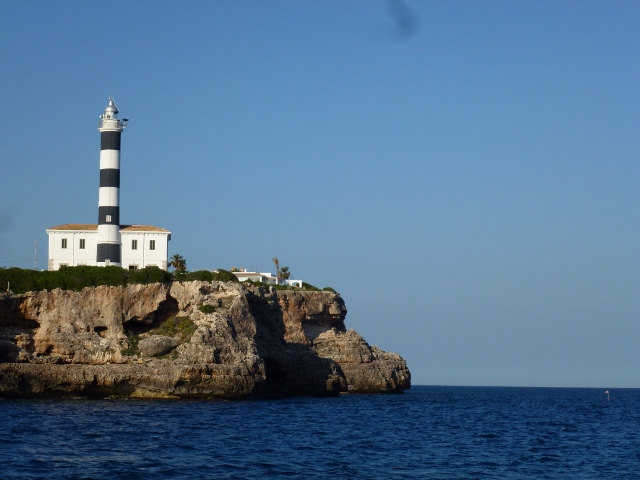 We set sail at 7AM, the sea is a pane of glass.  It's easy to see the 17 metrest to the bottom. We are motor sailing, as there is no wind. We are hoping to be in Palma for lunch.