There is a book, by Dorothy Carrington, Granite Island, a Portrait of Corsica, which would be great to read on this stormy evening. I shouldn't start from now though but from yesterday afternoon.
We arrived in Bastia yesterday afternoon to an overcast, grey city, with cream, yellow or terracotta buildings, with shutters of different colours.   As always, we arrive, climb stairs and run errands – buying a sim for the phone and some stamps from the Post Office, strawberries and fresh milk. Then about 5pm, the afternoon turned beautifully sunny, highlighting the peeling paint and needed repairs on the old lovely buildings.
Errands done, we have a drink on the Square, in warm late afternoon sunshine under Napoleon's gaze. The ferry's were in the water just in front of St Nicholas Square,  we sat under umbrellas in front of the vast open piazza, filled with playing children and walkers making their way to the ferries or the shops behind us.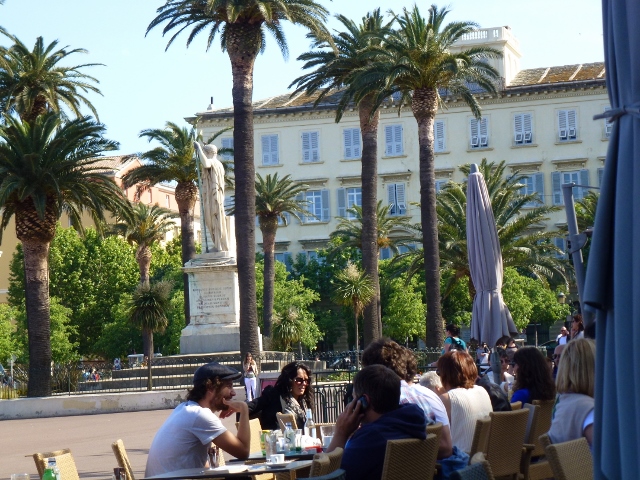 We stroll along a waterside path back to the Vieux Port, the path is built right beside the seawall and over a tunnel which lets the cars go from one side of the city to the other, the walkers on top. Restaurants line the path grabbing the sea view for their customers and on the inside of the road, men are out playing pentanque.
We cut through a narrow alley and we see what looks like a slip or a petticoat hanging on a door.  As we pass we look in and see a man patiently creating knots to make fishing nets.  He was talking to another man in the small but orderly space, hands constantly moving, making these fine fishing nets.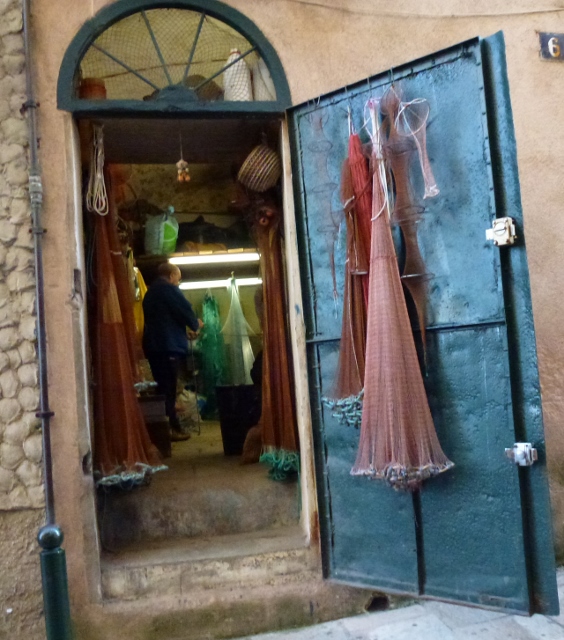 James notes how Bastia is reminiscent of Genoa, ancient and seedy. Interesting, as the Genovese built Bastia in the 14th Century.  The food seems more French and we know it's not Italy, because cars stop to let pedestrians through the zebra crossings. The Vieux Port is small and there are noisy building works which start early, so we decide to head north to Macinaggio, a small fishing village, where nothing has changed for many years, except the addition of a small but comfortable marina.
We left Bastia in 15 knots south-easterly  running north under headsail; so the sail was cold and wet but it wasn't frightening.  James saved 'frightening' for the finish, which was a steady 25 knots with gusts while we trying to moor stern to. Some lovely German 'seafarers', advised us to come in alongside the dock and the three of them caught our ropes and the bow thruster pulled us in.  I reckon James is a seafarer too, we have ropes for Africa holding us in place on the dock. Another boat came in behind us and they were pulled in alongside as well.
Tonight is wet, cold and the storm is set to intensify about  4 am.  Hopefully by tomorrow the storm will pass and we can continue on to Saint Florent, where with any luck, I will be able to find a copy of Dorothy Carrington's book.