We are moving Northwest, making our way to Corsica.  We arrived at Giglio last night and we had a night that separated the pro from the rookie.
James made a wonderful dinner of veal parmagiana served with a cheeky pinot gris so we had dinner on Mercier and talked about where today would take us.  It was quite chilly as the sun went down, but cozy on Mercier.  Imagine – Swiss Jazz was streaming live over the weefee*, aromas and warmth coming out of the galley.  We become very relaxed.  Sailing and being on deck for several hours is quite enervating and off we went to bed.
By 11:30pm, a south easterly swell came in and every time, I was about to nod off, the bow of the boat would rear up and slide crossways down the wave.  I look across – James is sound asleep and oblivious to the fact that he is  sleeping on a Coney Island roller coaster. I am exhausted so finally get up and go to the stern, which is less like a roller coaster, more being on a camel loping through desert dunes, except surely it was too cold. By 5am, I decide it would be better to move than freeze to death in my bunk, (all the blankets and covers are neatly stowed away carefully in vacuum bags). James wakes up and says "What time did you get up? I had a marvelous sleep."  Then he reminds me that there is no electricity, therefore no nespresso, aarghh – this travel thing does have drawbacks.
We get underway after our second cup of tea and sail to Porto Azzuro.  We sail past the Costa Concordia, which seems to be in salvage mode.  They have removed panels that were ripped by the rock and we could see several welders putting on new panels so that hopefully they will be able to float her off and take her to a port to be recommissioned.  We think the several stories of blue containers on the side of the ship are housing for the shifts of workers.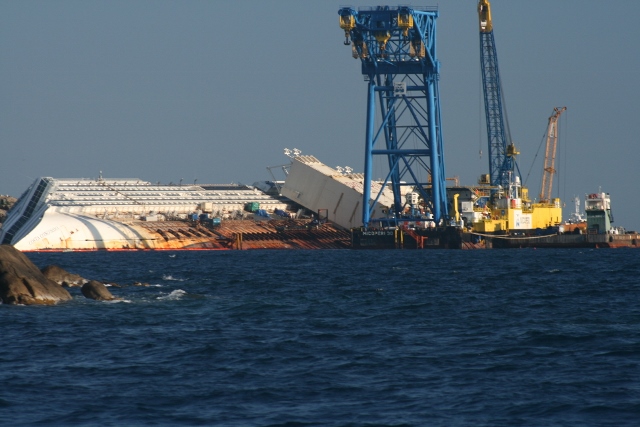 The day starts blue and sunny and just gets more dazzling as we tight reach towards Porto Azzuro, doing 7.5 – 8 knots, most of the way.  Port Azzuro is on Elba, a Tuscan island.  The harbour is a jewel to anchor in and of course, you remember from the last year – the artesian gelato makers on the island make the creamiest gelato.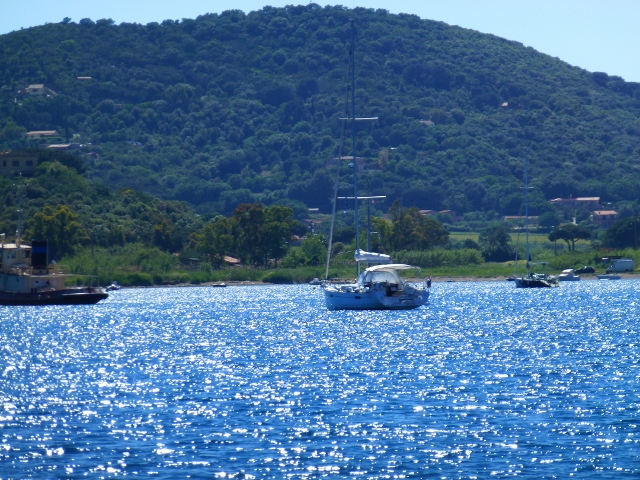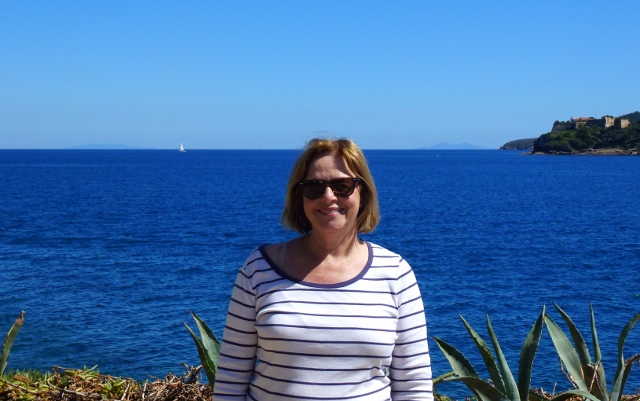 We are hoping for calm seas tonight, no swell or I might just jump in the zodiac and find a B&B.  Wish me luck.
*wifi