The Sojourn is still in the Inside Passage, but now we are in British Columbia, Canada.  We were on track to reach Klemtu but it was totally fogged in. Incredibly it was mistier than Misty Fjord. Our excursion there was cancelled and the Captain took us to Ocean Falls, Canada. We are the second cruise ship to visit the harbour of Ocean Falls, I hope someone has updated Wikipedia.
This was an unexpected destination and many Canadians were very excited. Ocean Falls had been a very busy town but it is shrinking because it has lost its industry.
Our next destination was Alert Bay, a small settlement on Cormorant Island. We were delighted to wake up to a clear blue-sky morning, just a bit of chill to the air. and watched as Sojourn anchored off the town. Our orange Zodiac took us to the pier, where we all cleared customs on the dock. They counted us off and then counted us back on.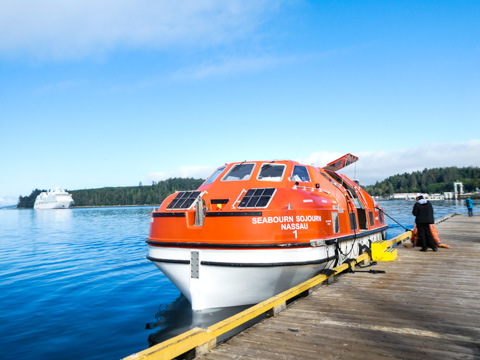 Alert Bay excited us with eagles. A parent eagle, almost rolling its eyes at the incessant cries for food by the juvenile.
The juvenile was larger and noisier than the adult. It takes two to four years for the juvenile to develop a white head. While young they are very dark shades of mottled grays, maybe as a form of camouflage.
Alert Bay is the home of many First Nation Namgis peoples, the local cemetery is sacred with old tombstones and totem poles. Captain George Vancouver visited in the late 1700. The First Nation Namgis people used Cormorant Island as a sacred ground to bury their dead. Their cemetery full of totems and headstones, right on the waterfront.
The Harbour is full of fishing boats and the foreshore is home to gigantic logs washed into the harbour on a high tide and fishing boats on the dry. Orcas must visit and feature into their folklore. They speak about Orca Dreaming.